Blue Microphones Yeti Pro Studio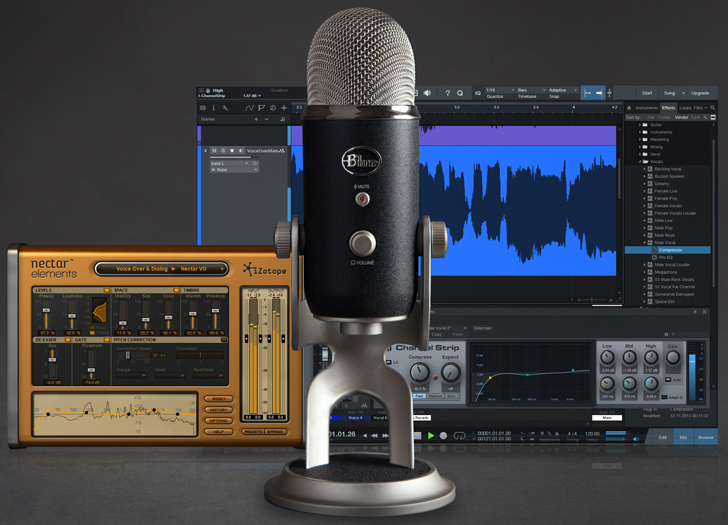 Blue Microphones Yeti Pro Studio Kit

There are three versions in the new Blue Microphones USB Studio Series all-in-one recording systems based around three of Blue Microphones most popular microphones: the Snowball, Yeti, and Yeti Pro. All three systems are complete and ready to record music, professional podcasts, or adding sound to any video.

The Snowball Studio ($99 MSRP) and comes with a Snowball USB microphone, PreSonus' Studio One® Artist software and quick-start templates to start recording immediately. The Snowball has Blue's dual-capsule condenser with three pickup patterns--cardioid, omnidirectional, and cardioid with a -10dB attenuator pad for recording loud sources or live shows.

www.bluemic.com/products/snowball-studio/

The Yeti Studio ($149 MSRP) comes with Blue Microphone's Yeti USB multi-pattern mic that uses three capsules for cardioid, figure-of-eight, omnidirectional and then a fixed stereo pair of mics. It also comes with the same PreSonus software, starting templates and iZotope's Nectar Elements--advanced studio vocal effects software. Yeti Studio also features a built-in headphone jack for zero-latency (live) monitoring, and direct controls for headphone volume, pattern selection, instant mute and microphone gain.

www.bluemic.com/products/yeti-studio/

Yeti Pro Studio ($269 MSRP) is the top of the line and combines a high-resolution Yeti Pro professional USB & XLR microphone with the aforementioned software kit. Yeti Pro comes with a collection of expertly crafted templates by GRAMMY Award-winning producer/engineers for voice-overs, vocal performance and instruments.

www.bluemic.com/products/yeti-pro-studio/
Blue Microphones Yeti Pro

I received the Yeti Pro Studio for review and found it to be easy to setup and record multi-track projects at up to 24-bit/192kHz resolutions. A big plus for me here in my studio was the ability change between the unit's three polar mic patterns or the stereo microphone output right on the back of the mic. Any of the microphone outputs also appear on the left/right XLR output connectors if you are not using USB.

I first tried connecting Yeti Pro Studio as a conventional pro microphone using the provided "Y" XLR cable--it adapts the mic's five-pin XLR jack into two separate left and right XLR cables for separate connection to my two-channel Sunset Sound "Tutti" S1P microphone pre-amp. I recorded my voice into Pro Tools 12 HD for a voiceover test. For fun I tried the stereo setting but I found the cardioid pattern more direct and present sounding for narration. Either way I had plenty of gain to work with.

Next I used the Yeti Pro as a USB microphone/interface system and found even better sound quality. I already have PreSonus Studio One and iZotope's Nectar on my DAW computer and they both worked great for this system.

For an interview I set up Yeti Pro on the center of a meeting table and tried different microphone patterns. I liked that the microphone gain stayed constant as I cycled through omni, cardioid, figure-of-eight and stereo patterns. I found that if I was facing a single person the figure-of-eight pattern, where one lobe picked me up and the opposite lobe covered my interview subject, worked well to prevent sounds from the sides from intruding too much into the recording.

For solo podcasts, I would recommend using the cardioid pattern and for wide, more distant pickup of groups and staged events, go with stereo if you can.

Any of the three Blue Microphone USB Microphone systems will get the job done. I found the Yeti Pro Studio to be just the ticket for podcasting--it is a conversation starter straightaway!

More at: www.bluemic.com/.








---
Web Page design is copyright © 2017 by Barry Rudolph