M-Audio BX D3 Series Monitors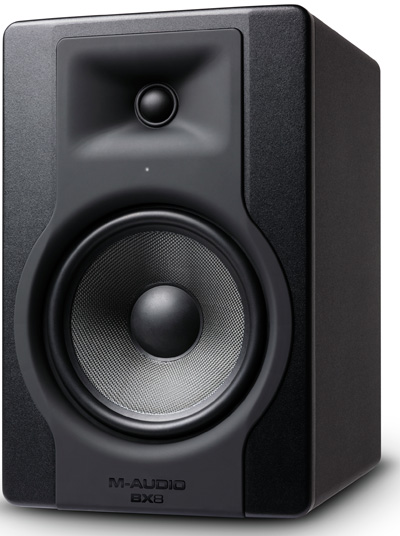 M-Audio BX8 D3 Monitor

The BX5 D3 and BX8 D3 studio reference monitor speakers represent M-Audio's latest line of super-affordable, bi-amped active monitor loudspeakers. The BX D3 Series offer an all-black "stealthy" look as compared to the M-Audio BX Carbon series.

The woofers are made of military-grade Kevlar® with damped rubber surrounds. The voice coil is able to withstand high temperatures reached under realistic studio monitoring volume levels. The tweeters have treated natural silk domes and fire into a computer-optimized waveguide that looks great and is said to improve sonic imaging.

The BX D3 Series is available in two sizes: the BX5 with a five-inch woofer and 1-inch tweeter and the BX8 goes with an eight-inch woofer and 1.25-inch tweeter. Previously M-Audio's BX Carbon Series offered a model with a six-inch woofer along with models with five and eight-inch woofers.

Both the BX5 and BX8 use a pair of Class AB power amplifiers appropriately matched to the their driver sizes. M-Audio says they "can play louder with greater headroom than the amplifiers commonly used in other systems." The BX5 D3 has a 60-watt amp for the woofer and a 40-watt amp for the tweeter. Frequency response is 52Hz to 35kHz. The larger BX8 D3 requires 80-watts for the woofer and 70-watts for the tweeter with a specified frequency range of 37Hz to 22kHz.

A couple of things immediately caught my eye when I received a pair of BX8 D3s for review. First of all they have an understated look with a flat black finish and the "M-Audio BX8" raised logo in gloss black--it's hard to see. In addition, there is a tiny bluish/white LED mounted exactly mid-way between the tweeter and the woofer. When these monitors are positioned at the right height and correctly aimed back at you in the listening position, you'll "see the light." It's a clever idea and it also mostly disappears from view most of the time.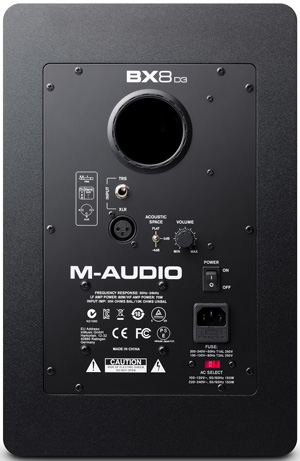 M-Audio BX8 D3 Rear Panel

The BX D3 Series monitors use a bass reflex port mounted at the top of the rear control panel and heat sink. The control panel has both a TRS and XLR jacks for either balanced or unbalanced inputs plus a Volume control. There is also a three-position Acoustic Space Control toggle switch with flat, -2dB, and -4dB positions. You should try to keep your monitors a good distance away from walls and avoid placing them directly on desktops to prevent bass buildup. But if that is not possible (or practical), try one of the three Acoustic Space switch positions.

I set up the pair of BX8 D3s on speaker stands and kept the Acoustic Space switch at Flat. However I tried them on my dining room table and found the -2dB position good. The BX8 D3s have plenty of gain--I fed their XLR inputs directly from my Avocet monitor controller and they had no trouble filling the room with great sound.

I found the sound of the BX8s to have a slightly forward mid-range quality I liked for analyzing and verifying the spectral tonality of my mix balances. It's easy to hear music mixes I know to be somewhat lacking in high frequency air and upper mid-range edge. These speakers do not hype up the top end excessively.

Whether you're adding a second pair of monitors to your existing studio setup or the BXs are going to be your "go-to", main loudspeakers; I think they make a good affordable choice.

The M-Audio BX5 D3 monitors sell for $149 MSRP each while the BX8 D3 monitors (as tested here) are priced at 249 MSRP each. Check out: www.m-audio.com/bx8d3








---
Web Page design is copyright © 2017 by Barry Rudolph