Nexi Industries The Solution Pedal Board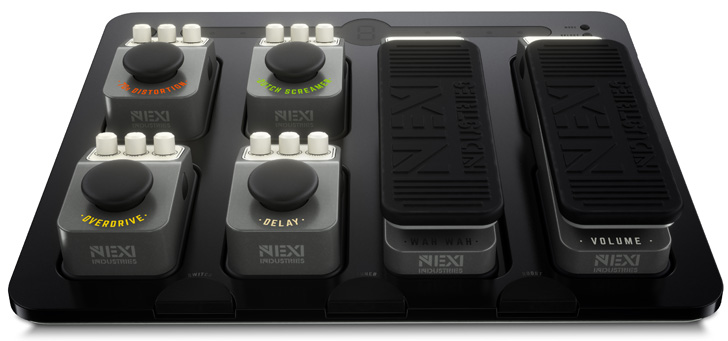 Nexi Industries The Solution Pedal Board (with Wah & Volume Double Pedals)

From the Netherlands' comes Nexi Industries with their new pedal board called The Solution. Nexi's Starter Pack includes The Solution plus the OVD-02 Overdrive pedal--just one of fourteen pedals available from Nexi.

The Solution is a very compact and heavy-duty pedal board with eight pockets or slots to hold up to eight Nexi pedals. The Solution has a rubber surface and individual, removable rubber covers that protect unused pedal slots from the elements. Each pedal slot has a DSub-9 connector that "mates" to a DSub-9 connector on the bottom of each Nexi pedal. The pedals have no in/out jacks, power supply or batteries to deal with--when you plug in a Nexi pedal into the pedal board all those connections are made at once.

There is a chart of the hardwired, internal signal chain order so you can arrange pedals in your own favorite order. Empty pedal slots are automatically bypassed.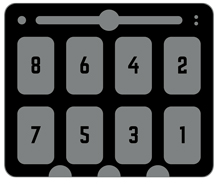 Nexi Pedal Chain Order

The Solution Pedal Board allows for any collection of pedals to be inserted into any slot including double pedals. You can add (pictured) the WWA-01 Wah-Wah and/or the VOL-01 Volume double pedals but they require two slots each.

The Solution has a built-in chromatic tuner and AC power supply (IEC cable plugs in the side) and two USB charging docks to keep smartphones or tablets powered as well. The onboard tuner mutes audio while in tune mode and there is a selectable boost footswitch/mode with a choice between 7dB, 12dB and 20dB of built-in output level boost for standouts and solos.

As a convenience to the player the Solution has an A/B or two-channel footswitch that is connected to a 1/4-inch jack on the side of the unit to connect to your amp's footswitch jack with a TRS cable (not provided). Also on the side are: a 1/4-inch jacks for your guitar and the unit's output. All jacks including the AC connector have snap on, rubber covers that keep dirt and the rough Dutch weather out.
Single Nexi Pedal

With the exception of the Looper and Delay pedals, all Nexi pedals are analog and have true bypass. In addition to plugging into the Solution, they run conventionally standalone with a 9V battery, or with an external power supply.

The lineup of other Nexi pedals joining the OVD-02 pedal are: the DSC-01 Dutch Screamer distortion, DIS-01 70's Distortion, OVD-01 '70's Overdrive, OVD-02 Overdrive, CHO-01 Analog Chorus, DLY-01 Delay, DIS-02 Distortion, MTD-01 Metal Distortion, FZZ-01 Fuzz, TRM-01 Tremolo, the PSR-01 Phaser, and the LPR-01 Looper.

When activated and engaged inline, all the pedals light up brilliantly with a ring of helpful LED lighting surrounding the control knobs--awesome to be able to see the knob settings in low light.

Hooked up to my super-clean 5-watt Class-A amp and 12-inch speaker cab, I immediately got the sound of a small VOX amp with the DSC-01 Dutch Screamer distortion pedal only set conservatively.

If you have not factored into a pedal board yet, check out this inexpensive system. It offers a clean, no fuss setup and is patch cable-free.

Coming soon will be an adapter plate called conNexi that will allow use of similar size pedals from other companies on The Solution.

Designed by Nexi's Vintage Analog Protection Squad, the pedals sell for $105 MSRP each and the STP-001 Starter Pack is about $215 and comes with the OVD-02 Overdrive pedal and The Solution Pedal board ready to go. Check: nexi.eu/products/starter-pack.








---
Web Page design is copyright © 2017 by Barry Rudolph