PreSonus FaderPort 8 Mix Production Controller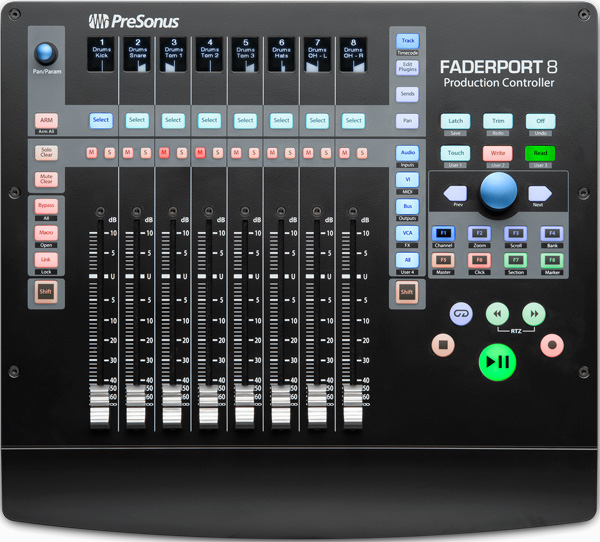 PreSonus FaderPort 8 Mix Production Controller

The PreSonus® FaderPort™ 8 Mix Production Controller is the 'big brother' of the original single fader PreSonus' FaderPort Production Control Center. Like that unit, FaderPort 8 connects using a single USB 2.0 cable but now adds eight touch sensitive motorized 100-mm faders and 57 buttons covering 78 different functions. In addition, there are eight high definition (64 X 96) LCD screens or scribble strips that indicate each of the eight faders' selected function.

About four times the size of the original FaderPort, the new FaderPort 8 measures 2.25-inches H, 13.15 W X 11.85-inches deep. It comes with an external 12-volt power supply and has a 1/4-inch footswitch jack that is programmable like the original FaderPort--a system I've used since 2007 and now replacing it with the FaderPort 8.

FaderPort 8 operates using any of three protocols to convey bi-directional fader and button control signals and information to and from your DAW's software. The three protocols are: Native for PreSonus' Studio One and other DAWS that support it; MCU or Mackie Control Universal for using FaderPort 8 with Cubase, Nuendo, Live, Logic and Sonar; and also HUI emulation for use with Pro Tools--my testing platform for this review.

Upon powering up the first time, I set which protocol I wanted to use and FaderPort 8 retains that configuration from now onward or until I change it. That, and about three pages of instruction manual reading, is all you need to get going! And I love that!

I tested FaderPort 8 with its version 1.01 firmware in Pro Tools 12HDX (ver 12.7.1) with its standard implementation of HUI. There are no drivers necessary; just plug FaderPort 8 into a USB port and get going!

Besides standard transport control and, depending on your particular DAW's implementation of MCU and/or HUI protocols, there will be some variance in exactly what you can control. FYI: as with any HUI/MIDI controller, you can extend and customized HUI functionality using Bome software MIDI Translator. www.bome.com/products/miditranslator.

Lots of Control

The Session Navigator section has the Prev and Next increment buttons, the Rotary encoder and below those are two rows with four buttons each. The top row has: Channel, Zoom, Scroll, and Bank and they all work in HUI protocol while the bottom row of four buttons are more specific to PreSonus Studio One with some exceptions in MCU and HUI DAWs. The Click button turns the click track on/off and when the Section button is on, FaderPort 8's navigation buttons control back and forth Nudging in Pro Tools--both functions are useful for most DAW workflows.

Like my FaderPort, FaderPort 8 works in banks of eight fader channels. On the Pro Tools screens, the selected eight channels' name boxes are 'blue fringed' and, when selecting a channel on the FaderPort 8 with its Select button, that channel highlights. You can move all eight faders' control functions in jumps of eight channels at a time with the Bank button or, use the Channel button (the home/default) and jump one channel to the left or right direction using the Prev or Next buttons. Or grab the Rotary Encoder knob and "crank" across your Mixer window or up/down the Edit window quickly.

I can tell you that by using the Zoom button, I was able to quickly zoom in/out on audio files and with the Scroll mode, I liked being able to slowly move left or right in the timeline in Pro Tools. Although there are quick keys for this in Pro Tools and it is tedious to do it with a mouse, it is very nice to just not think about it, push a button and grab a control to get on with producing music.

The 100-mm motor faders are used for adjusting channel volume levels, pan pot positions, aux send fader levels and editing up to four parameters of a selected plug-in. (Note: plug-in parameters are not consistently mapped to HUI.) The Fader Mode switches changes the currently selected group of eight faders between Track (default), Edit Plug-ins, Sends, and Pan. All of these modes work fine in Pro Tools 12.

I could adjust up to four plug-in parameters on a single plug as well as switch to bypass with a separate, dedicated button (awesome!). I liked the visible feedback in Track mode for track name and its pan position. In Sends mode, Sends A thru E are available and depicted on the individual, scribble strip displays above each fader. I could select and control any single Aux fader at a time but had to switch back to Track before selecting a different Aux fader on the same channel or any other channel.

Also super useful were the dedicated buttons to instantly arm all tracks for recording, clear all mutes and clear all solos in banks of eight. There are four programmable user buttons for programming and accessing your favorite functions. I liked the large, illuminated buttons on FaderPort 8--they are just the right brightness for dimly lit control rooms but I do wish they were adjustable for better visibility in brightly lit rooms.

Loving It!

I'm getting into using FaderPort 8 in my Pro Tools mixing. It has meant some changes and has speeded up my workflow/process but it is has already paid off during my very first mix session using it! It sits upfront on my desktop and at the ready at all times! Super recommended for everyone!

The PreSonus FaderPort 8 sells for $499 MAP and for more information, check: www.presonus.com/products/FaderPort-8.








---
Web Page design is copyright © 2017 by Barry Rudolph