PreSonus Quantum Thunderbolt Interface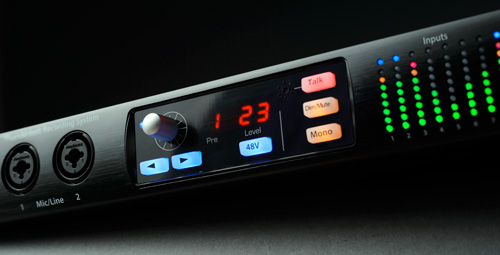 PreSonus Quantum Thunderbolt Interface

PreSonus' 26 X 32-channel Quantum 1U audio/MIDI interface takes full advantage of its high-speed Thunderbolt 2 bus architecture to provide super-low latency throughput--low enough to use your own DAW's internal mixer. You may record directly through your DAW track channels using minimal buffer sizes.

Quantum uses 24-bit, 192 kHz converters with 120 dB of dynamic range and the eight onboard PreSonus XMAX microphone preamps are recallable via the included PreSonus Universal Control software and/or PreSonus' Studio One® DAW. The UC is used to configure and setup Quantum from your desktop. UC has device options, device drivers, and firmware updates when available.

The only connection between your computer and Quantum is a single Thunderbolt 2 cable with an additional rear panel TB 2 connector provided for ancillary disk drives and/or monitors--no need to buy a hub. I thought it brilliant that many of the front panel controls are also "mirrored" within the UC so the Quantum can sit back in a rack or out front for instant access. On its front panel, there are a talkback (with microphone), Mute/Dim and Mono (monitoring) buttons.

I liked using the two Combo XLR jacks on the front panel that "sense" and automatically scale the pre-amp gain and input impedances for mics, instruments, or line inputs whichever you plug in. The rear panel has XLR Combo inputs 3 through 8 and they also automatically switch between XLR microphones or TRS line level inputs. Phantom powering is selected on the front panel or UC on an individual, as needed basis--not all eight or four at a time as like on other interfaces.

The rear panel also has 10 more TRS jacks: 1 through 8 line outputs plus the L/R stereo Main monitor outputs. Besides the aforementioned two Thunderbolt 2 connectors, all other I/O connections are digital. There are: RCA S/PDIF in/out jacks for up to 24-bit/96kHz stereo; Word clock in/out BNC jacks (if you're "clock finicky" and want to externally clock); ADAT Dual S/Mux in/out Lightpipe spigots (four total) for up to 16-channels in/out (at 44.1 or 48kHz) or 8-channels at 96kHz (176.4 and 192kHz rates not supported); and MIDI in and out jacks--although we didn't test them.

Quantum is ready to interface and control the PreSonus DigiMax DP88 bank of eight more mic pre-amps connected via the S/Mux connectors. The UC or Studio One will remotely control the microphone pre-amps in the connected DigiMax as well. With a single Quantum and using the ADAT and S/PDIF stereo digital I/O, you can have up to 18 additional digital inputs and outputs for a total of 26 in and 32 out. Using only Thunderbolt interconnections, up to four Quantum interfaces can be used together for a ginormous system with 96 X 96 of I/O!

PreSonus Quantum Thunderbolt Interface Front Panel

PreSonus Quantum Thunderbolt Interface Rear Panel
Up and Running Fast!
We used a 2011 MacBook Pro running OS 10.12.6 with 16 GB RAM and Pro Tools 12.8.1 Standard version. Running the UC Installer, then doing a firmware update and restarting Quantum all went fast and trouble-free and we got sound playing right away by connecting the L/R, 1/4-inch TRS main output jacks to my powered monitors. The large Main knob will control the output levels of all eight analog outs as well as the main monitor outs (programmable via the UC). Universal Control is very intuitive with submenus and good navigation on the MacBook
Also configurable are the two independent headphone outs both with dedicated and immediate accessible volume controls and jacks on the front panel. Headphone signals are labeled Phones 1 and Phones 2 in the UC and you can configure them to play two different mixes. Or go with the default setup where headphone 1 is the same as the main stereo out and headphone 2 is outputs 1 & 2. This would be my usual setup unless I'm tracking and the drummer wants the click track very loud and the rest of the band something else completely. Configurations are quickly and easily done and stored in the UC.
We quickly launched up a previous session that had been problematic for two other USB and Firewire interfaces. With lots of plug-ins running and a mix of 49 mono and stereo tracks playing and with a 128 samples buffer at 44.1kHz, there were still glitches and unexpected quits and freezes.
However with the Quantum not only did that session run flawlessly, we added another 50 tracks and put them into record with no problem whatsoever. This is like using my PCIe HDX card system! I am amazed at Quantum's level of professional operation, its low latency and instantaneous and the "right now" immediate feeling!
Quantum comes with PreSonus Studio One® Artist DAW and includes the Studio Magic Plug-in Suite free--seven useful plug-ins in VST, AU, and AAX format--and you can upgrade to Studio One Professional for 50% off. The Quantum interface sells for $999.95 MAP.
For more information, please visit www.presonus.com/products/Quantum.
---
Web Page design is copyright © 2017 by Barry Rudolph