PreSonus StudioLive AR8 USB Mixer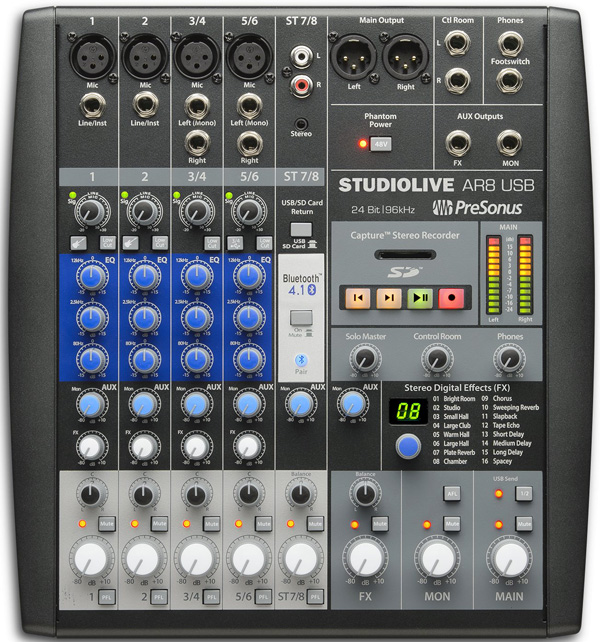 PreSonus StudioLive AR8 USB Mixer

One of three new analog StudioLive Mixers, the StudioLive® AR8 USB is a portable, lightweight 8-channel analog/hybrid stereo mixer you could easily slip into your backpack and be ready for mixing and recording live sound at any location. The AR8 is a scaled down version of the larger StudioLive AR12 and AR16 USB mixers and shares many of the same features.

One of the first things you'll notice on the small AR8 (it measures 3.5H X 11W X 12.3D-inches) are the large control knobs used instead of fiddly, miniature faders. Not only are the knobs easier to adjust and find in dim lighting, but they have a nice solid, tactile feel. I also liked the simple analog approach to this mixer's design. With the exception of the IEC power connector, on/off switch, and a USB connector, all audio connections are on top of the AR8's mixer's panel--super convenient in a hectic live sound gig or during a video shoot.

The AR8 includes a Bluetooth (ver 4.1) receiver that "pairs" to any smart phone or computer. After pairing and switching it on, the Bluetooth signal will mix background music coming from my iPhone (or other portable device) with my live mix. I found that the AR8 holds the pairing and when I powered up the AR8 during my subsequent days of review and use, it worked immediately without re-pairing.

All the new AR mixers have a Capture™ SD memory card recorder that records the stereo bus at (16/24-bit/44.1kHz .wav/MP3) as well as playing back stereo files into the mixer. There are standard "tape deck" style transport buttons that light up dimly and brighter when in operation.

The eight input channels are divided into: two mono inputs, two stereo/mono inputs, and a stereo input called the Super Channel. All inputs have separate pan pots, mute buttons with bright red LEDS and PFL (pre-fader listen) buttons.

The Super Channel is stereo input Channel 7/8 and it sums up to four, connected stereo sources simultaneously. You can sum analog line level sources from the L/R, RCA jacks (external tape, DAT, or CD player), audio coming into a 3.5mm TRS jack (iPhone etc.), the SD player return, and then choose between two digital sources: the Bluetooth receiver audio or the USB DAW return.

Input 1 and 2 have both XLR for the Class-A microphone pre-amps and TRS connectors that also double as unbalanced instrument inputs when the "guitar" button is pushed. You can apply +48-volt phantom (globally) to the XLRs and there is a single, wide range (50dB) gain control to set operating level with the channel's knob set to "U" or unity gain. I found the microphone pre-amps quiet and great sounding.

Even without a manual, anybody who has ever operated an analog mixer will immediately understand the AR8 with its three-band EQ, Low Cut filter, and Line/Mic XLR/TRS input jacks.

I found the three-band equalizer frequencies well chosen at: 12kHz, 2.5kHz and 80Hz each with +/-15dB boost/cut and the mid-range section sporting an asymmetrical Q. The boost Q is a broad (0.55) and cut has a sharper Q (2.5)--this feature reflects a careful and thoughtful design. However the 3rd order 100Hz Low Cut filter seemed a little extreme at -18dB/octave and I discovered that boosting at 80Hz filled in any gaps the filter removed.

I liked the PFL solo bus that allows pre-fader listening via the headphones and Control Room outputs but keeps the Main XLR Outputs always active. There are master control knobs for PFL, Control Room and Headphones and there are 1/4-inch jack outputs for both the mono FX (effects send) and Mon buses.

The first four input channels (1,2, 3/4, and 5/6) have FX send knobs that drives an onboard stereo digital effects system with 16 preset effects that range from reverbs to delays. It has its own FX return master control and you can add one of these effects to the overall stereo mix bus while mixing or recording. I liked the Chorus (09) and small amounts of the Tape Echo (12) effects a lot. All of this is a "bullet proof" analog design that just works as expected and without scrolling through layers of sub-menus to find something.

With a computer connected to the USB jack, you may also record and playback from PreSonus® Capture 2™ software. Capture 2 comes with the AR8 and it defaults to recording all input channels separately as well as the stereo bus mix--ten tracks total. Awesome!

After quickly downloading Capture 2™, I found it simple to setup and operate. It has a lock feature that was on the first time I used it that prevented me from stopping once I was in record! I could also use the AR8 with PreSonus Studio One 3.5® if you prefer.

I have to say that the AR8 USB mixer is a solid winner! You can go into a venue and capture a performance on either your connected laptop or on the SD card and provide a simple FOH sound at the same time. I had great fun writing this review and can highly recommend this new PreSonus product to anyone--pro or novice.

The AR8 sells for $399MSRP and is compatible with any ASIO or Core Audio application.

It comes with Capture 2 and Studio One 3 Artist software. Check out: www.presonus.com/products/StudioLive-AR8-USB.








---
Web Page design is copyright © 2017 by Barry Rudolph