Samson Technologies QH4 4-Channel Headphone Amp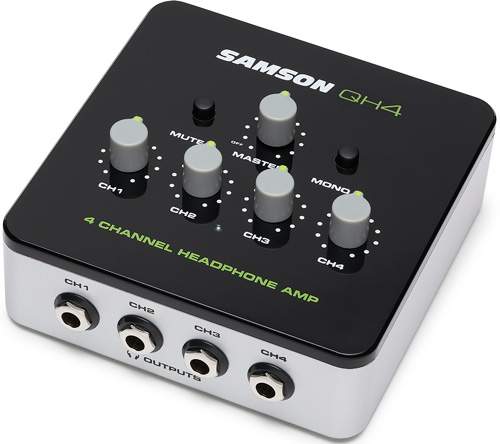 Samson Technologies QH4 4-Channel Headphone Amp

The Samson QH4 is a small 4-channel stereo headphone amp with four independent power amplifier channels with separate volume controls. This means power does not diminish even when all four channels are being used and disparate sets of headphones with different operating impedances between 16 to 600-ohms will work fine without any conflict over one set of phones being too loud/soft compared to another set.

Getting stereo audio into the QH4 is made easy with two 1/4-inch balance inputs that would receive line level signals from your mixer or recording interface. In addition, there is a stereo TRS 1/8-inch Aux input jack for direct connection to your smartphone; you can enjoy music from your device and properly drive studio-grade headphones to loud levels.

As a convenience for accommodating large groups of singers and/or your entire band together in the studio, there is an 1/8-inch Aux Out jack that can be used to daisy chain multiple QH4s together.

The Samson QH4A finishes with a global Mute and Mono buttons--monaural monitoring is great for quickly checking a podcast or recordings with split tracks.

Speaking of handy, the QH4 came to the rescue when I needed a third headphone system here at my studio. I had a singer on the first headphone system and a guitarist on my second system but I needed a third system to accommodate a drummer in another room who wanted to play the mix with a loud click track. I just ran two outputs of my interface into the QH4 placed right next to the drummer--problem solved!

The Samson QH4 is a utilitarian and powerful workhorse in a small package. It works great in my studio and is great value for the money. It sells $69.99 MAP.

For much more, check: www.samsontech.com/samson/products/processors/qh4/qh4/.








---
Web Page design is copyright © 2017 by Barry Rudolph