Soundelux Bock U195 Condenser Microphone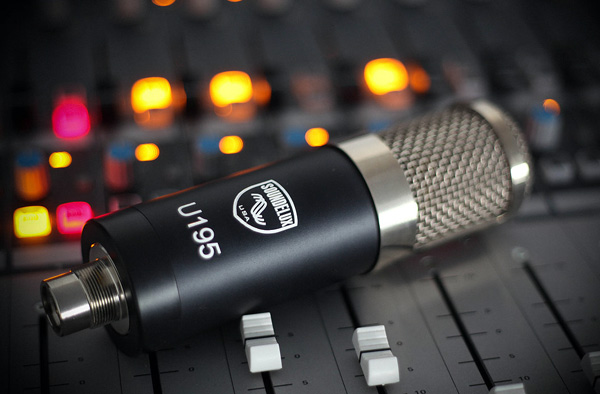 Soundelux Bock U195 Condenser Microphone

Soundelux USA has released the U195 cardioid (only) FET P48 microphone; it is based on the original Soundelux U195 produced from 1996-2006 and the Bock 195 offered from 2007-2014. The latest Soundelux USA U195 features a new improved 1-inch dual backplate K67 capsule in a fixed cardioid polar pattern.

For protecting the capsule, the U195 uses a large mesh screening similar looking to the original Neumann U67 mics. There is also a secondary, internal fine mesh inside to further protect the capsule. Personally I like this look, and if the way old vintage U67 screens have survived so well over the years compared to old Neumann U87s is any indication, it is a more rugged design too.

The new U195 features a gigantic Cinemag CM-96322A output transformer that dominates the interior of this microphone. Exclusive to Soundelux, this custom transformer was designed by David Bock with Reichenbach engineering staff in 1996. Designer Bock comments: "I found one of the disturbing shortfalls of the U87 to be it's transformer, and this is my response--this transformer will never run out of low frequency headroom."

The U195 maintains the popular and unique FAT switch that changes the value of a capacitor so there is no negative feedback in the low frequencies but retains 10dB of negative feedback in the mid-range and high frequencies. Clever!

Inside and Outside The Soundelux USA Bock U195
Mouse Over To Pause

Handmade in California, the 48-volt phantom powered U195 uses a Class-A FET (Field Effect Transistor) head amp circuit driving the transformer for a 200-ohm balanced output. The rated frequency response is 20Hz to 16kHz +/- 2dB, 111dB dynamic range, a sensitivity of 8mv/PA, and signal-to-noise ratio of 72dB un-weighted. (81dB A-weighted)

The -10dB pad, Fat/Norm, and Low frequency roll-off switches are recessed toggles located on the back of the mic. It takes a small tweaker tool or a jeweler's screwdriver to switch them and I like that because they can't get accidently changed during handling, setup or placing the mic.

In The Studio

I was pretty excited to give this new mic a shot at lead vocals. We had been using a Neumann U87 and were fairly happy with the sound of it but at times the U87 sounded slightly compressed in my singer's upper range--especially when he sang loudly.

Using the U195 in Fat mode worked perfectly for thickening up certain high notes that "thinned out" on the U87. I even showed my singer how to turn on the Fat switch while in front of the mic. It doesn't make a loud electrical "pop" so there are no worries if the mic isn't muted. The vocal sound immediately gained a "chesty" thickness we all just loved.

In Normal mode, the new U195 sounds something like the U87 but better--more open and full sounding. I noticed this every time I've used it as I would the Neumann such as for: vocals, floor tom, guitar cabinets, room mic, or an occasional drum overhead. It does require more mic gain on the API console to achieve similar recording levels but that's not a big deal.

For a mono drum overhead mic about three feet above the toms, the difference is very noticeable. I tried it with/without the pad--using the mic's -10dB attenuator really depends on your pre-amp choice. The mic's increased headroom would overload the API 1608 Console pre-amp so use the pad. But on a pre-amp that goes down to 0db of gain like a Manley's EQ500 (tube), no pad and no problem for a big and fat sound!

I found between the Fat/Normal switch and the low frequency roll-off, you have four different choices when recording any source. It is definitely worth cataloging these choices for future uses of the Soundelux U195.

For a utilitarian microphone (as most think of Neumann U87), the Soundelux U195 is a better choice because the new design has a flatter frequency response, the increased transformer size allows for more low frequency headroom and the Fat/Normal switch offers two distinctly different sounds. Fantastic!

With the included SDX metal threaded stand mount, the Soundelux USA U195 sells for $1,249 MSRP. The optional shock mount is available for $79.00. For more check out: www.bockaudio.com.








---
Web Page design is copyright © 2017 by Barry Rudolph