Steinberg Nuendo 8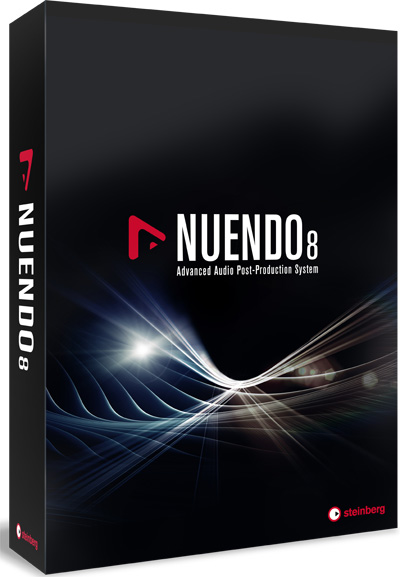 Steinberg Nuendo 8

Nuendo 8 is a complete, self-contained music, effects, dialog, sound design, ADR/Foley DAW system. Steinberg has always focused Nuendo on post-production while their Cubase is used for music production. Nuendo 8 now goes deeper into game audio production and has many new features aimed at faster and better workflows.

A big update is Game Audio Connect 2 that transfers entire music compositions including audio and MIDI tracks along with cycle and cue markers from Nuendo to AudioKinectics' Wwise. Wwise (Wave Works Interactive Sound Engine) is a middleware cross-platform sound engine for authoring interactive media and video games.

In addition, Steinberg is moving towards more collaborative features where multiple users can contribute via the Internet or local network to the same project. Steinberg has Automated Dialog Replacement (ADR) system for fully integrated voice and Foley recording and has promised Remote Dialog Replacement with video soon--dialog replacement directly from any remote location in the world.

Producer David Gamson Comments

For the music/song production side, Nuendo user producer/songwriter David Gamson offered his initial impressions of Nuendo 8. David starts with: "As a long time Nuendo user, I was very excited to get my hands on the latest iteration of this powerful DAW."

Steinberg generally releases many new features in Cubase first, so Nuendo users have had to wait for many of the enhancements already in Cubase for the last six months. A big change with Nuendo 8 is that Steinberg has incorporated the NEK--the Nuendo Expansion Kit into it. NEK gives Nuendo users all the MIDI functionality that Cubase has at an additional cost.

David comments: "I especially like the Screen Zones--all controls in a single unified window with access to all of the DAW's functions. The new Lower Zone opens an editor in the lower part of the screen with three sections active by default. This is similar to editing in Ableton or Logic and is a welcomed addition to Nuendo's workflow. You can display MIDI/audio clip editing, the mix console or the Sampler Track." In addition, in the setup window, you can activate the Chord Pads window.

The Sampler Track allows for quick editing of audio streamed from a hard drive--with the option to load a portion of the file into RAM. It allows users to drag and drop audio samples directly from the MediaBay in order to easily play and manipulate the samples. MediaBay has complete local hard drive as well as network search capabilities.

David continues: "While most people have standalone or sampler plug-ins, it's hard to overstate how convenient it is to have Sampler Track integrated directly into the program. I could quickly take snippets from audio clips in the Arrange page and simply drag them into the Sampler Track window for further manipulation and editing. I found this feature a huge workflow enhancement and great for re-triggering drum or percussion samples. Sampler Track is awesome for tracking and composing vocal performances--I was able to effortlessly snip out sung vocal phrases, drag them in, turn on Audio Warp (which allows the user to manipulate time compression and formants) and quickly create an entire instrument from the small vocal snippet."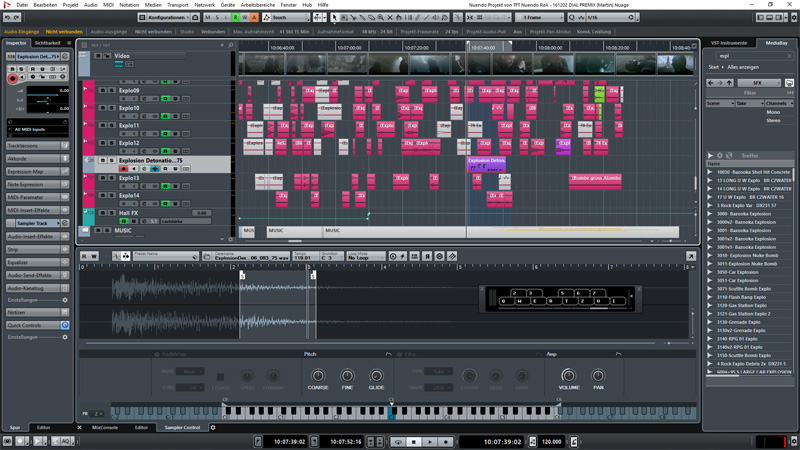 Steinberg Nuendo 8--Main Screen with Lower Zone
If you own the full version of HALion and want to go deeper into sample manipulation, you can hit one button and have all your Sampler Track settings ported over to a new instance of HALion that'll open on a separate track.
Another feature, first introduced in Cubase 9 and now in Nuendo 8, is side-chaining for VST3 instruments. Use the side-chain for sending audio to the filter section of the virtual-analog Retrologue 2 synthesizer, the second version of a VST instrument that was previously available within the NEK.
David goes on with: "Another huge workflow enhancement is the ability to undo and redo moves in the mix console. There is now a complete mix console history that shows what moves have been made and allows going back in time if desired. Mix history covers almost all the functionality in the mix console including plug-in instances, inserts and routing. This is big--and alone worth the upgrade".
Offline processing is advanced in Nuendo 8 and is now called Direct Offline Processing. The most often used offline processes or a chain of plug-ins can be applied directly for one or multiple selected clips and can be undone or edited at any time. The edits are not permanent unless you decide to render them as new audio.
Since processing is not done in real-time, this can save resources and, in music production, allowed for multiple versions of sounds (with dramatically different effects) that can be sequenced together easily. David explains: "on an 8th note snare drum build I selected all the snare clips in the bar and added a compressor plug-in from the Direct Offline Processing window and then quickly tabbed through each clip changing the release time of the compressor as the snare fill built up. For sound designers, this clip-based processing is super-useful and coming soon in an update will be the ability to save chains of plug-ins for recall in other sessions as well."
Direct Offline Processing together with its Live!Rendering technology lets users apply frequently required processes in an offline plug-in chain and render offline processes in real time, while Auto ReNamer automatically assigns new names to events you can pull from a .csv file (database).
Steinberg has been promising it's own video engine and Nuendo 8 is the first Steinberg product to feature it. With Nuendo 8, users are finally untethered from their dependence on Apple for support of QuickTime. (QT is all but gone from modern DAW systems)
Other highlights are the User Profile Manager, HALion Sonic SE 3 and a fine selection of sounds taken from the 2017 Hybrid Library by Pro Sound Effects and much more.
New VST plug-ins.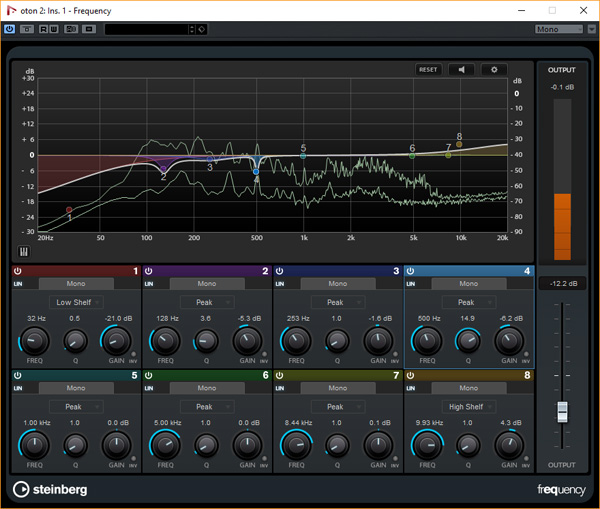 Steinberg Nuendo 8--Frequency EQ

There's a new 8-band fully parametric EQ called Frequency EQ that looks and works like of Fabfilter's Pro Q2 or DMG's Equilibrium. Retrologue 2 (available in Cubase 9) is now available in Nuendo.

David says: "I liked a new plug-in called Sound Randomizer as it creates variations of a sound using four controls: pitch, timbre, impact, and timing. It's easy to create subtle or extreme variations to any sound and for repetitive and static sounding drum samples, this can quickly add movement and interest."

VST MultiPanner (which came in Nuendo in 7.1) is an immersive sound panning system and now includes support for Dolby ATMOS. Nuendo's mixing console supports up to 22.2 channels, with channel strip EQ, VCA faders and fully integrated loudness measurement.

David comments again: "Nuendo users will find this a no brainer upgrade. For users of other workstations, I can highly recommend taking a look at Nuendo 8. It adds even more functionality to what is already an incredibly deep DAW."

Nuendo 8 is available through the Steinberg Online Shop and sells for $2,100 MSRP. Customers who have activated Nuendo 7 or previous versions since May 10, 2017, are eligible for a free, downloadable. More at: www.steinberg.net/en/products/nuendo/start.html.








---
Web Page design is copyright © 2017 by Barry Rudolph