StompLight DMX Pro Effect Pedal and Pal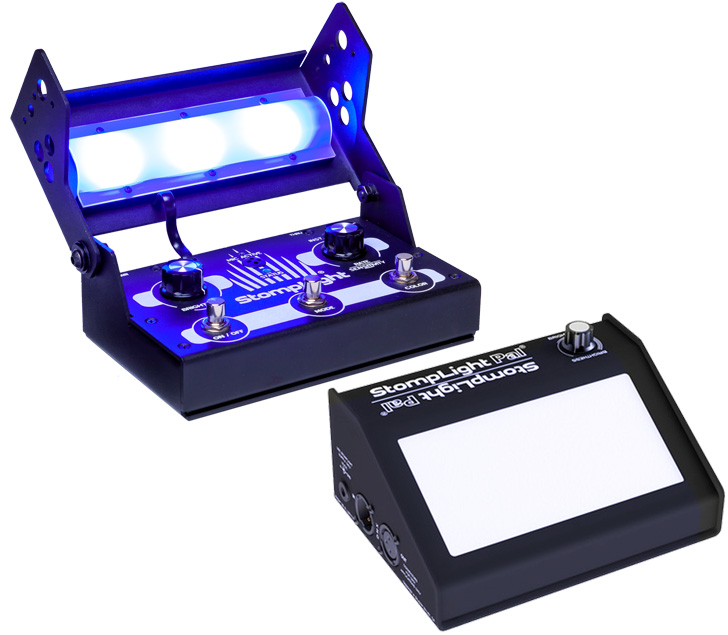 StompLight DMX Pro Effect Pedal and Pal

The whole line of StompLight DMX Pro lightshow pedals has undergone a major update including a reduction in pricing. Available in white or black, the StompLight DMX Pro now sells for $299 MSRP. New is the StompLight Pal that interconnects and synchronizes to the DMX Pro via a DMX 3-pin cable (or a standard XLR cable). The Pal sells for $249 MSRP. Both the DMX Pro and Pal use Cree XL LEDs that have 50,000 hours of life equivalent to three hours a day for 16 years.

Also new since I covered the original Stomplight Light Show Pedal over a year ago in these pages is the PowerBank lithium ion battery pack that will run these units for hours--it sells for $39.99 and worth it if you do outdoor shows with limited access to AC power. (Think using it in parks or at the beach)

I received for review a StompLight DMX Pro, StompLight Pal and two PowerBank batteries and cables. Both the units come with 12.6-volt wall-wart adapters that also charge the PowerBank batteries. I like that the status light LED glows with the current mode running when power is first connected but the fun starts when you step on the On/Off button.

StompLight DMX Pro has a hinged 'clamshell' cover that allows the super-bright LED bank to throw light up at nearly any angle. I use it here at my recording studio decoratively and as an instant 'vibe' maker!

There are five modes available using the Mode footswitch--each time you push it, StompLight will advance to the next mode. You can also bypass any mode(s) to shorten the sequence to your favorite mode(s) only.

Five Modes

The color wheel mode is my favorite mode and you can adjust the speed at which it fades out from one color to fading in on the next color. The Rate/Sensitivity control allows changes from about once every half-second to about once every 30 seconds for very gradual changes.

The solid color mode offers red, orange, yellow, green, blue, indigo and finally white. My second favorite mode as it does set a certain mood in the studio plus the white mode is useful as a trouble light in my studio.

The third mode is a kind of color organ that works dynamically to blast light in any of the above single colors. Loud sounds produce a brighter light. It has an internal microphone with a sensitivity control that picks up whatever sound(s) in the room. The fourth mode is the same except it uses whatever mono signal you connect to the unit's 1/4-inch rear panel Input jack such as a guitar or keyboard output. Thoughtfully, there is also a Thru jack to pass that signal onto your amplifier or PA system.

The fifth mode is a stroboscopic mode for bright flashes in any of the chosen colors. Repetition rates from about once every 1/2-second to about three times a second.

Multiple StompLight DMX Pros can be interconnected and flash in perfect sync using the unit's In and Out XLR connectors. You could also use the StompLight Pal. Pal is smaller and has only a brightness control and XLR In and Out connectors. It easy to use and multiple Pals can be used to fill out larger stages all trigger from a single DMX Pro unit.

In My Studio

In my studio, I used the DMX Pro to light the left side of the control room and monitor speaker and the Pal for the right side and its monitor speaker. My studio is small--only 112-inches wide so I had great coverage even with the brightness control halfway. I like the reaction I get from clients and students when I surprise them at some point during their session. Great fun and it always breaks up the seriousness of the proceedings sometimes.

I think this is a great product and useful in all sorts of ways for parties, music venues, nightclub/bar lighting and much more. All StompLight products come with a 1-year warranty and, for much more about them, check: stomplight.com.








---
Web Page design is copyright © 2017 by Barry Rudolph