Tech 21 Q\Strip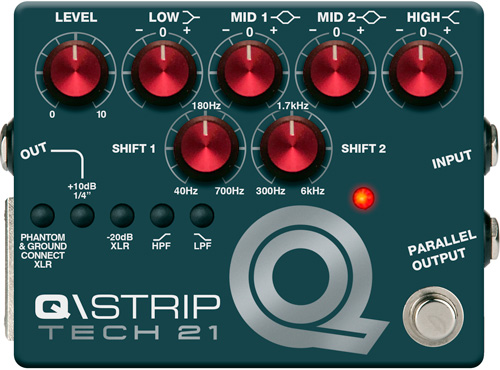 Tech 21 Q\Strip

The Q\Strip is a channel strip in the mold of a 1960s or '70's studio console. It even has metal control knobs like the British-made Trident or Helios consoles--classic rock n' roll boards. Inside the 100% analog MOSFET circuitry is capable of all the warmth, girth and huge tone those vintage consoles are still coveted for these days. There are four bands of pro-level EQ sections: two parametric mid bands and high and low shelving filters.

Other features include: an high pass filter for cutting out annoying low frequency rumble when going direct and the low pass filter rolls off undesirable high frequency noise--hiss etc.

With this extensive equalization, Tech 21 says you can recreate different speaker cabinet curves when going direct. The Q\Strip has a super high input impedance that easily handles piezoelectric pickups yet works fine with low impedance sources equally well. There is an XLR output connector with a -20dB pad plus a 1/4-inch output jack with switchable +10dB boost.

Tech 21's Q\Strip comes in an all-metal cabinet and will operate with either phantom power or standard 9V alkaline battery (not included), or optional power supply (Tech 21 Model #DC4).

It sells for $249 MAP. For much information, check: www.tech21nyc.com/products/effects/qstrip.html.








---
Web Page design is copyright © 2017 by Barry Rudolph