TRX CLS Series Cymbals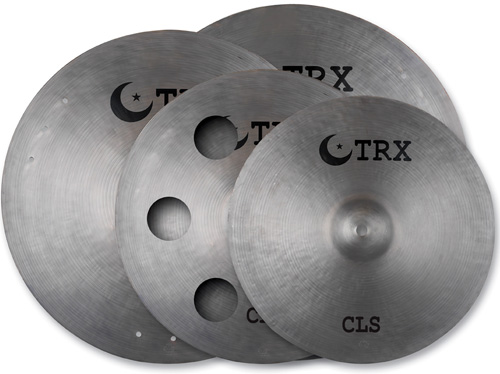 TRX CLS Series Cymbals

The new CLS™ Series from TRX® Cymbals combines a dark and warm classic sound with their exclusive Retro-Gray™ finish. The extra-thin B20 Bronze cymbals are handcrafted by master cymbal craftsmen and are recommended for jazz, rock and indie/pop drummer sound and styles.

Besides a big selection of crashes, crash-rides and hi-hats, there are Thunder™ crashes and splashes in various sizes and two different sizes of Storm™ hi-hats with weight-matched top and bottom cymbals.

CLS series hi-hats have lighter bottom cymbal for a darker and trashier pre-New Beat sound. There is also the option to add rivets (in the pre-drill holes) in the bottom hi-hat and in the crash-ride cymbals for yet another layer of trashiness.

The TRX CLS Series was developed in collaboration with top European jazz composer/performer Lada Obradović.

MSRP price ranges:

Hi-Hats are $550-$700; Crashes $422-$455; Crash Rides $495-$673; and Thunder Crashes sell from $240 to $627.

For more check: www.trxcymbals.com.








---
Web Page design is copyright © 2017 by Barry Rudolph