Alan Parsons ASSR Session Files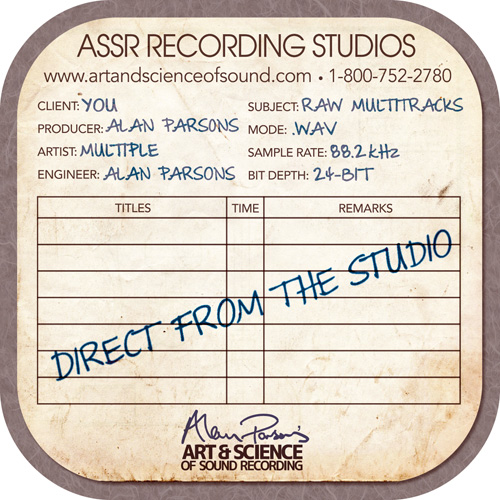 Alan Parsons ASSR Session Files

Alan Parsons' Art & Science of Sound Recording Session Files are professionally recorded, multi-track recordings that can be loaded into your own digital audio workstation for processing and remixing in any way you like. Session Files are taken from the on-going series of live recording master class training sessions where students make a record with famed engineer/producer Alan Parsons.

Session Files relates easily with ASSR's 10-hour award-winning video series The Art & Science Of Sound Recording that details the recording and production process from theory to setup to microphones choices to signal processing to acoustic room treatment to setting your own studio to final mix.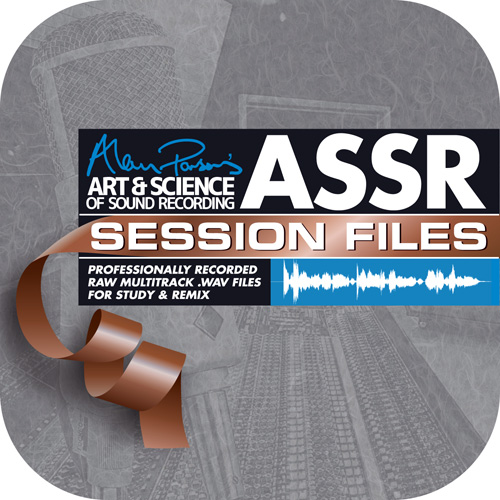 Alan Parsons ASSR Session Files

Session Files Vol. 1 are ten individual songs produced and recorded by Alan Parsons at studios around the world including Ocean Way, The Village, Studio At The Palms (Las Vegas), and EMI Abbey Road--the studio where Alan started out with The Beatles and when on to engineer Dark Side Of The Moon for Pink Floyd. Later, he produced and engineered his own multi-platinum records with The Alan Parsons Project.

For the earnest engineering or music producer student, this is a look into the world of music production in a professional recording studio. You'll follow along with class attendees as Alan records music in excellent sounding acoustic spaces using the best equipment and microphones. He shows off his unique techniques, musical aesthetic and production style.

You get raw, contiguous multi-tracks recorded at 24-bit/88.2kHz ready to load into any DAW. There is also a detailed track sheet with each session that includes: instrumentation, microphones and positioning plus personal session notes from Alan. There are photos, and a rough, "guerilla" cell-phone video shot during the three-day recording session events.

Musicians featured on the recordings include A-list session players: Vinnie Colaiuta, Simon Phillips, Nathan East, Tim Pierce, Michael Thompson, Rami Jaffee, Nick Beggs and others.

I received the session files for a song called "Do You Live At All." It was excellently tracked to a click track metronome and it comes, "warts and all," ready for a good mix. Actually a rough monitor mix is also provided on a separate stereo track to see where Alan left off on it. There were over sixty stereo and mono audio tracks and a Pro Tools session file that booted up immediately--complete with memory locations already entered.

I especially liked the .pdf file of the track sheet plus notes and details about each track--what mic, individual recording processing, descriptions about the backing vocal tracks and any (if at all) compression, equalization and filtering that was applied during the recording.

I think ASSR's Session Files are going to be big hit with recording engineering schools, home recording enthusiasts--any one who wants an inside look while having a great way to practice mixing using awesome sounding music played live by the best players.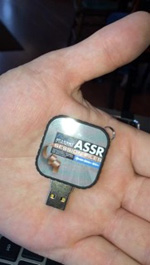 Session Files USB Drive

Session Files can be purchased by download, or pre-loaded onto a USB drive. They are not for re-sale or publication but you can edit them, remix, and try your own vocals or other music instrumentation freely.

They sell for $99 each and there are also educational prices with The Complete Collection (all ten songs) pre-loaded onto a custom USB drive. www.artandscienceofsound.com/session-files.







---
Web Page design is copyright © 2018 by Barry Rudolph