Samson Technologies G-Track Pro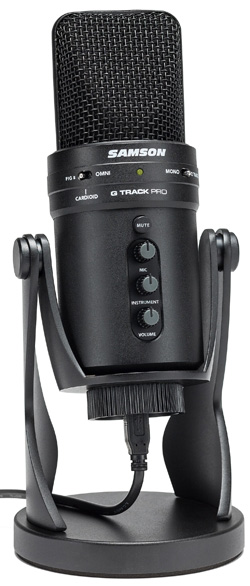 Samson Technologies G-Track Pro

The G-Track Pro is a self-contained, standalone recording studio. Just connect, via a USB cable (included), to a computer running any DAW, a pair of headphones and you're ready to record vocals, acoustic guitar and/or any keyboard instrument directly.

With its solid and heavy base (it's made in die-cast zinc and weighs about 3.5-pounds), I have the G-Track Pro placed on my coffee table at the ready for recording any singer or acoustic guitar by way of its multi-pattern USB condenser microphone. The G-Track Pro has a 25-mm (1-inch) dual-diaphragm and adds a direct input, interface and mixer that works up to 24-bit/96khz for studio quality sound with zero-latency monitoring.

You get a choice of three selectable pickup patterns: cardioid, omnidirectional and bi-directional for the proper pickup of any sound sources with as much of the room's ambience as you like mixed in using the omnidirectional mode.

A feature I have not seen in other USB mic/interfaces is the ability to record and mix together both the microphone and a directly plugged-in instrument (bass, guitar or keyboard) at the same time. There is a 1/4-inch instrument input jack on the back of the G-Track Pro and three separate mixer controls and input Mute button back on the front. I liked the zero-latency monitoring complete with a 1/8-inch TRS headphone jack also on the back. Everything is very well thought out here.

With 3-color Power/Clip/Mute LED, "plug-and-play" operation without driver, a free download copy of MOTU's AudioDesk recording software, the G-Track Pro sells for $149 MSRP. Other accessories, including the SP04 shock-mount are also available.

samsontech.com/samson/products/microphones/usb-microphones/gtrackpro/.







---
Web Page design is copyright © 2018 by Barry Rudolph