Sonarworks Reference 4 Studio Edition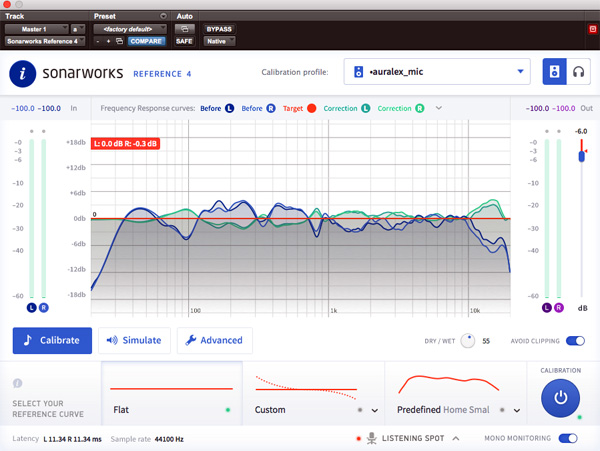 Sonarworks Reference 4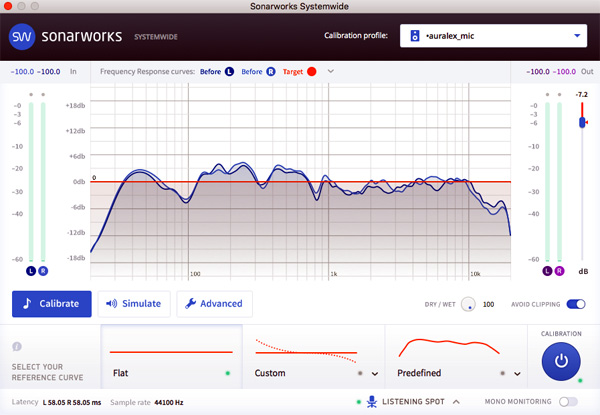 Sonarworks Systemwide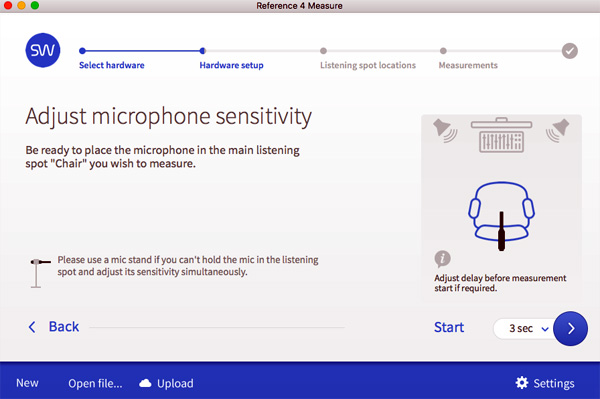 Sonarworks Measure

The Sonarworks Reference 4 Studio Edition is a convolution-based equalizer system used to measure and develop a corrective response curve for your studio's stereo monitor speakers.

It consists of four parts: a monitor speaker/room measurement/calibration application called Reference 4 Measure, the Reference 4 Plug-in that runs the corrective curve in your DAW's monitor path, the Sonarworks XREF 20 measurement microphone with downloadable calibration file, and lastly Systemwide, a standalone virtual audio driver that also runs the corrective curve.

Reference 4 Measure

Once I configured my computer's Core Audio and used the software to setup the proper playback volume and the measurement microphone sensitivity, I went about calibrating my pair of Adam 2.5A monitor speakers.

The Reference 4 Measure software will measure the distance from each speaker to the other and also from the central listening position out front where I sit to mix. To do this, the software sends "pings"--high-pitch ticks to each speaker and echo locates them and the listening position in physical space. A readout in inches or centimeters is given--it was accurate to my own measuring tape within 0.1-inches.

Next, the software GUI instructs you to move the measurement mic to different locations in front, on the sides, behind and also at different heights around the listening position. Holding the mic, it instructed me to take 24 separate measurements in each of those locations.

Since it has already "built" a virtual 3D monitor space in front of the speakers, I liked that it graphically shows you when the mic is in the correct spot--in both the horizontal and vertical axes before taking a measurement. Again it uses echolocation to confirm the mic is in (or close to) the desired position and then immediately takes a measurement with a 20Hz to 20kHz sweep tone from each speaker separately. Sometimes it will repeat the sweep if an error or an external noise was detected spoiling that particular ping.

After using the software for a few days, I got this process down to about 2 minutes. I simply held the microphone aimed at the centerline of the listening position in each position and started first at the same vertical height as the mic was back on the stand at the listening position. The GUI will instruct you where to move the microphone from there.

Once the measurement is complete, you may name it and save it as a preset to an existing folder to be used by the other parts of the Sonarworks Reference 4 software, the Reference DAW plug-in or Systemwide.

I took to naming my room measurement presets starting with a • (Option + 8 on the MAC keyboard) so that they will appear at the top of a very long list of included predefined headphones correction curves.

Reference DAW Plug-In

The Reference DAW plug-in (VST, AU, AAX, RTAS) is inserted in the monitor path only. It is important not to record or bounce mixes through the plug-in--bypass it if necessary.

The plug-in allows the use of the corrective curve derived from the Reference 4 Measure software to achieve a flat response target or any number of customized and predefined (non-linear) curves. There is also a Simulate mode for simulating popular monitor speakers (such as "Japanese white cone Studio monitors") and well as popular headphone brands. The simulated curves run on top of the active calibration curve.

The Advance mode opens up a choice between Zero-Latency (for tracking and pristine evaluation of individual tracks); Linear Phase; plus a trade-off choice called Optimum--a compromise between linear phase response and minimal latency. I'm using Pro Tools HDX 12.8.2 and its delay compensation engine deals with any latency issues during mixing. I liked the three-position fader between these three responses--for the most part I left the plug-in in Optimum.

My studio control room is an acoustic-treated space and the software measured its response to be no more than about +/- 4dB from ruler-flat. I liked that there is a Wet/Dry control to dial in the amount of correction as I thought 100% correction was too much and backed it off for my room to about 50%. Also when using Optimum and/or Linear modes, adjusting Wet/Dry while music is playing introduces "glitching" while you are adjusting.

Sonarworks XREF 20 Measurement Microphone

I did not receive this microphone so I used one of my other calibrated mics that is very similar. I would recommend getting the mic with Sonarworks as the big difference is that the XREF 20 comes with a calibration profile you can download. It has an omnidirectional electret condenser capsule and a flat frequency response.

Sonarworks Systemwide

Systemwide is a standalone audio driver with a similar GUI and identical operation as the plug-in. Operating at 44.1kHz only when launched, it takes over the Core Audio in the Mac's Sound preferences. To get going, there is the usual setup, buffer size, output gain with a channel identifier tone on/off and general settings to configure.

If you use the Core Audio driver for music work, Systemwide allows you to do all of the plug-in does for audio playback in your system from any software. So Systemwide is great for listening to streaming music or your stored music collection without booting up your DAW.

So I am recommending getting Sonarworks' Reference 4 Studio Edition. It has made a great difference in my studio's sound even though I have acoustic treatment and bass traps all set up. It sells for $249 and includes the Headphone Edition for calibrating headphones using the included profiles of many different brands. There is also a Premium Bundle with pre-calibrated Sennheiser HD650 headphones for $699 MSRP. www.sonarworks.com.







---
Web Page design is copyright © 2018 by Barry Rudolph