Accell Ultra Cables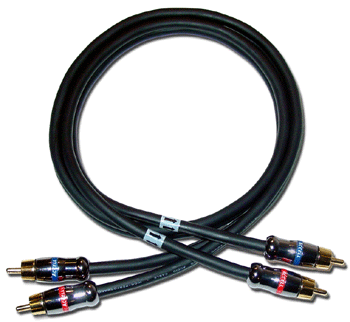 The Accell UltraAudio™ and UltraVideo™cables are designed to perfectly convey both digital and analog audio and video signals to and from each of your stereo or home theatre components. It makes perfect sense to have the best interconnecting cables possible after you've spent so much money on that new HD television, satellite service and/or component TV or stereo system.
UltraAudio cables come in all lengths starting at one meter and feature gold-plated RCA connectors and split-tipped center pins. There is a silicone O-ring gasket between the connector and the cable's interior to block moisture and dirt. The cable is wrapped in an UltraFlex™ jacket for greater flexibility so you can carefully route and 'dress' your entire rear panel cabling neatly. The dual balanced, internal copper conductors are further protected from RF (radio frequency) and EM (electromagnetic) noise by Mylar® foil shielding. Accell also makes a quality line of fiber optic cables for ToslinkŪ digital audio connections with the same flexibilities and tough outer jackets.
UltraVideo cables come in both composite and component sets of three colored-coded cables for (RGB) Red, Green and Blue signals all with gold-plated connectors and UltraFlex jacketing. Accell also makes the new HDMI™ cables for HDTV's, DVD players, receivers, set-top boxes and home theater components where both audio and video is carried over a single cable and connector with up to 4.95 gigabits/second in bandwidth capability.
UltraAV2 is the new line of high performance audio and video cable kits. I hooked up a kit that had, all in one bundle, both a digital fiber optic cable to connect my CD player to my receiver and the trio of RGB video cables that connected to my video monitor--sweet!
Accell also makes DVI video display cables, camcorder Firewire (mini and regular), beefy speaker cables with connectors or in bulk rolls, and all kinds of Ethernet cables. For much more, telephone 510-438-9288 or visit www.accellcables.com
---
Web Page design is copyright © 2005 by Barry Rudolph