ADS Instant Music System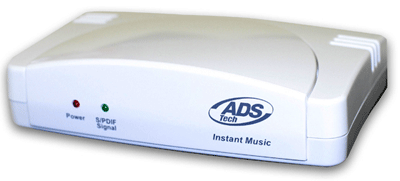 By now we all know about 'ripping' our favorite CDs in our computers to make MP3s or Apple files for iTunes but what about old vinyl or even cassettes in our collections we'd like to transfer to our computer, iPod or other portable digital player? The ADS Tech's Instant Music system is here--it will 'make it so' as soon as you connect it.
The ADS is an analog audio-to-digital converter system that connects and runs from any USB port on MACs or PCs. Once you have the unit connected to your computer and connected the analog audio left and right RCA connectors to your stereo system, your ready to record. Cables are supplied and it is as easy as hooking up a second cassette deck. You may also use the digital S/PDIF TOSLINK (Lightpipe) sockets to connect to your CD player or DAT machine to record digitally.
After you load up the included Nero™ software, you're ready to capture, convert to MP3, edit (arrange them into play lists, edit start/stop times or add a cross fade from one track to the next for smooth transitions), archive and burn CDs made from your old records, cassettes or even your own recordings. You can save music as an MP3, .WAV, .WMA (Windows Media 9 Audio) or AAC audio files. There are audio cleaning tools useful for filtering out unwanted pops, clicks and hisses.
ADS Instant Music is available for $49. It is compatible with Windows® 98SE, WinME, WinXP (Home or Professional), Win2000 and Macintosh OSX systems equipped with Garage Band or Sound Studio 2.10. This external device comes with a 6-foot USB 2.0 cable and a 6-foot RCA audio connection cable with a turntable grounding wire. Nero Mix, Nero SoundTrax, Nero Wave Editor software, a User Guide and an installation CD-ROM are also included.
For more information, visit www.ADStech.com or telephone: 800-888-5244.
---