Aphex Systems Bass Xciter Pedal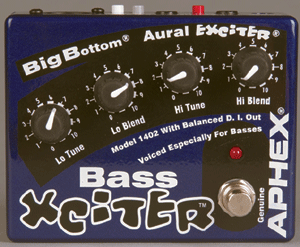 Professional audio processor manufacturer Aphex Systems has a new line of guitar stomp pedals that use many of the company's patented designs adapted for guitar and bass. The 1400 Series consists of: the 1401 Acoustic Xciter™; the 1402 Bass Xciter™; 1403 Guitar Xciter™; and the 1404 Punch Factory™ Advanced Optical Compressor. The Bass Xciter pedal caught my eye because it has the original Aphex Aural Exciter®, the world famous, patented sound enhancer with transient discriminate harmonics generator and also controls for Optical Big Bottom®, a patented bass processor unlike any other bottom end enhancer. You'll find the voicing tailored for deep tone and sustain while adding life and snap--almost like playing a new and different ax.
This nine-volt battery powered unit (Also external power jack and it can be +48 volt phantom powered) is also a top quality direct box with ground lift switch and Active/Passive switch for super high input impedance (10 megohm) that won't load down piezoelectric pickups. Flip this switch and get 50Kohms impedance great for synths or basses with active pickups. The Bass Xciter's direct out provides a feed to any mixer or mic pre-amp with or without the Xciter's processing added.
The four control knobs are all simple to use and the direct bypass switching takes the Bass Xciter out of the line instantly. The Bass Xciter costs $199 MSRP and for more information, contact Aphex Systems Inc. 818-767-2929. www.aphex.com
---