BackBeat Books 50 Years of Gretsch Electrics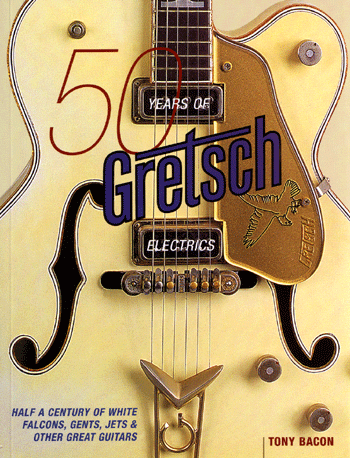 The fifty-year history of Gretsch electric guitars includes probably the widest and diverse cross-section of guitarists than any other guitar manufacturer. You have players like Chet Atkins, George Harrison and the Beatles, Bo Diddley, Duane Eddy, nearly all the British Invasion bands of the Sixties (including the Stones and the Who), to Jazz players like George Van Eps who had Gretsch make him a seven-string guitar in 1968.
Author Tony Bacon and this 140-page book cover Gretsch from its 1883 beginnings through the 1920 and 30's when the guitar started to replace the banjo in bands and Gretsch put out its first archtop acoustic in 1933. In 1939, the Synchromatic came out and was an immediate success because it was bigger and louder. (No amps in those days!)
Fast-forward to the 1950's and Gretsch was making the first electric single cutaway models endorsed by jazzers Al Caiola and Jimmie Webster. In fact Webster and later Chet Atkins were 'prime movers' in getting Gretsch electrics widely recognized for their great sound and playability. Once many Rock-A-Billy groups and Country music 'pickers' started using Gretsch electrics, they became world renown for their ability to fully realize the talent of a player who commanded it.
A fascinating story told using many great color picture spreads throughout, 50 Years of Gretsch Electrics includes a complete reference section of specifications for every model along with chronology and is collector must-have. Available from Backbeat Books for $24.95. www.backbeatbooks.com or 866-222-5232.




50 Years of Gretsch Electrics: Half a Century of White Falcons, Gents, And Jets
---