Berklee Music The Future Of Music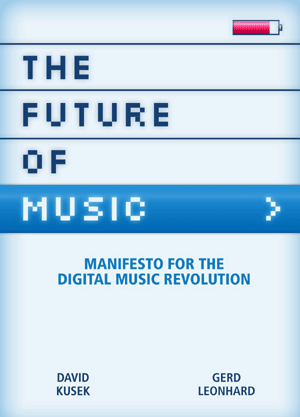 Authors David Kusek and Gerd Leonhard offer their current thinking and the documented facts concerning the state and future of the music and record business. To summarize their thesis: the record industry is terminally ill but the music industry is alive and well and on the brink of tremendous change and growth.
This ten chapter must read book examines the changes that are already happening now and how they are affecting the state of the recording industry including: the delivery and distribution of music, the music economy, and our personal connections to music. I liked that the histories of other emerging industries and trends are used to compare/contrast the radical changes in the music industry in the last five years. One of the best chapters talks about the "democraticization" of our musical experience while another has the top ten truths of music today and another "futurizes" popular music industry myths.
Good examples in this book's are the descriptions of popular myths. Record companies believe in the myth that they are selling product, a commodity--like shoes or a new car. To add to their troubles, they would like us to believe that only they can deliver this "product" and that they must do everything possible to retain this business model--even suing loyal music buyers who also happen to download music files. The record companies have forgotten that people don't care about Sony or UMG--they buy the record to establish a personal relationship with the artist's music. The Future Of Music argues that, "technology can give back to us a meaningful, direct relationship with artists and bands."
And this is just one of many absorbing sections this wonderfully prescient book has so I've made it my current read! For the seasoned veteran to the music business novice, this is the book to learn the truth. The Future Of Music sells for $16.95 and is available from Berklee Press in February 2005. www.berkleepress.com




The Future of Music: Manifesto for the Digital Music Revolution
---