Black Box from M-Audio/Roger Linn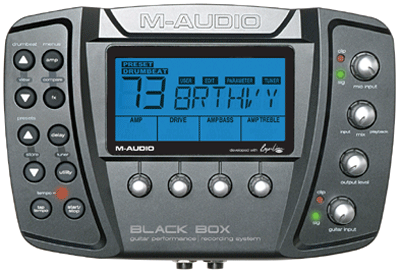 The powerful and compact Black Box combines amp modeling, drum tracks, powerful beat-synced effects, an audio interface for computer-based music production and guitar/mic recording preamps. Black Box can be used standalone or in conjunction with most popular music software via WDM, ASIO and Core Audio drivers--it comes with Ableton Live 4 Lite GTR software.
It features realistic emulations of 12 guitar amps: Fender Bassman, Fender Deluxe, Fender Twin, Vox AC-30, Marshall JTM-45, Marshall Plexi, Marshall JCM-2000, HiWatt DR-103, Soldano SLO-100, Mesa Boogie Maverick, Mesa Boogie Dual Rectifier and Bogner Uberschall.
The Black Box's 100 drum patterns come in a variety of styles and are easy to jam to with tempo manually adjustable using tap tempo or synchronized to external MIDI clock (over USB). The 43 effects designed specifically for the unit automatically beat-sync to the drum patterns or master clock. These effects include tremolo, flanger, chorus, random filters (1/8th, 1/8th triplets and 1/16th), tremolo sequences, filter sequences, wah wah, auto wah, talk box, arpeggiators and MIDI effects. There's also a separate beat-synced delay effect that can be used in conjunction with the others, featuring settings for note division, number of repeats and volume. Either the mic input, guitar input or drums can be processed through the internal beat-synced DSP effects at any given time.
The USB audio interface sends Black Box's audio output to a Mac or PC and returns the DAW playback, mixing it all into the unit's audio outputs. Other features include: a S/PDIF (24-bit/44.1kHz) digital audio output jack and separate preamp channels for guitar (1/4-inch input jack) and microphone input (XLR jack)--both with signal/clip LEDs and level controls. The analog outputs include a 1/4-inch stereo headphone and a pair of balanced 1/4-inch TRS connectors.
Besides the 100 factory presets and 100 user program locations, the unit has a large LCD display for programming with four rotary encoders, and jacks for an expression pedal and two momentary pedals.
The Black Box sells for $329.95 MRSP and for more go to:
www.m-audio.com/products/en_us/MAudioBlackBox-main.html.
---