Cakewalk Sonar Home Studio 4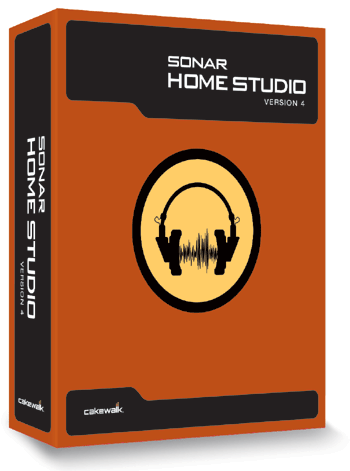 A "dumbed down" Sonar 4 would be the exactly wrong way to think of Sonar Home Studio 4 and Home Studio 4 XL. These two new software suites are based on Cakewalk's top of the line Sonar 4 with many features and capabilities shared between them. Home Studio 4 is aimed at the newcomer to music sequencer production and offers everything you need to take a musical idea to finished CD.

As compared to Sonar 4 with its unlimited tracks, higher sample rates and support for up to 500kHz, Home Studio 4 ($149 MSRP) has: 64 audio and unlimited MIDI tracks; 24-bit, 192 kHz audio engine; Master Control Toolbar; Track Presets for easy track setup; Track Icons for quick visual orientation when recording and mixing; Track Inspector; Project Navigator; enhanced loop-based composition tools; music notation printing; customizable Console, color schemes, layouts, toolbars and keyboard commands; ASIO™, WDM, DirectX™, DXi™, VST™, ReWire™ Support; PowerStrip™ multi-effects processor and Cakewalk Audio FX1 and Audio FX2 plug-in suites; SFZ SoundFont player; Virtual Sound Canvas DXi and Dreamstation DXi; CD burning; and hundreds of megabytes of ACID™-format loops. It comes on one CD-ROM.

The premium version XL ($229 MSRP) ships on three CDs that add more instruments such as the RXP Dxi drum machine, Square I Dxi analog modeling synth, and PowerFX Dyad DXI sampler; effects including Reverb XL; and loop libraries from PowerFX. Owners of HS 4 can upgrade later on to XL for $59.

Having used nearly all the different sequencer/DAW systems out there, I found this software easier than ever. I especially like the Master Control Toolbar where all the controls for recording are located and there is quick access to all Views, Record, Loop, and Punch transport functions--no need to search for the correct pull down menus looking for something. Track Presets is a great feature when you've got several songs in progress at the same time. It provides an easy way to create and recall complete track setups including mix, routing, and effects settings.

For much more about Sonar Home Studio 4 and Home Studio 4 XL, contact Cakewalk at 888-CAKEWALK or visit at www.cakewalk.com.











---