Cakewalk Project5 Version 2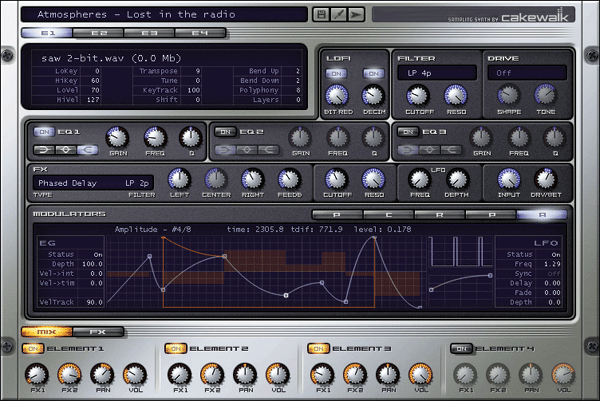 Version 2 of Project5 updates this popular soft synth environment with a higher performance engine and full multi-track audio recording. There are new keyboards added to the already large assortment in ver 1. There's PSYN II, a subtractive synthesizer and the first rgc:audio-engineered multimode sampling keyboard for Cakewalk.
Immediately noticeable to ver 1 users is the streamlined user interface with a much more intuitive 'gestalt.' I found it much easier to use the new per-track pattern triggering and the dynamic arpeggiator--both very unique to Cakewalk and this ver 2 system. Other very good ideas are the in-track automation and Cakewalk's perfected 'freeze' mode.
The real-time, per-track pattern triggering pads have been fully integrated into Project5 with drag-drop between song arrangement and Multipad and the ability to populate cells with audio clips and MIDI patterns without any disruption to the audio engine's operation. Loop Reconstruction has 'per-slice' control of pitch, pan, and gain for radical loop designs that would normally require hours of extra work in other systems. You can rearrange and nudge slices, export new ACID™ loops, seamless drag-drop rearrangement and then export new ACID loops.
Project5 Version 2 is $429 MSRP U.S. and is scheduled for release in April 2005. Customers that purchase full retail packages of Project5 Version 1 or 1.5 after February 1, 2005 will receive a free upgrade to Project5 Version 2 directly from Cakewalk. For more information, call 888-CAKEWALK or visit www.cakewalk.com
---