Cerwin-Vega Intense Portables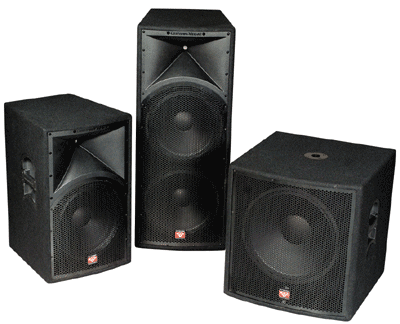 Cerwin-Vega's Intense line of portable sound reinforcements products is comprised of three new models with many asked-for features including: titanium compression drivers, plywood cabinets and Cerwin-Vega's HighRoad horns for improved high-end performance and clarity.
The INT-152 is an eight-ohm, two-way, 15-inch passive reflex design rated at 600 watts and a frequency response of 50Hz to 20kHz. Use the 152 for a standalone club PA system or add deeper, low frequency augmentation with the INT-118S subwoofer.
At four-ohms, the INT-252 features two 15-inch woofers with 2.5 inch high temperature voice coils and a total system power rating of 1,000 watts. A great single system with frequency response of 45Hz to 20kHz, or use it in conjunction with the 118S subwoofer.
The INT-118S subwoofer features a single, 18-inch driver with a cast aluminum frame and a three-inch voice coil for peak power handling up to 1,000 watts. 'Plug and play' for any existing sound reinforcement application, the 118S has a frequency response of 38Hz to 500Hz.
Cerwin-Vega in Chatsworth, CA, Telephone them at 818-534-1500 or go to: www.cerwin-vega.com.
---