Cycling '74 Momentary Incursions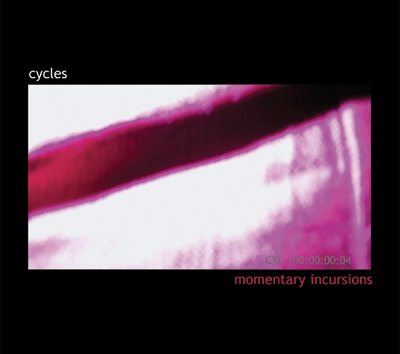 The fourth and final DVD/CD volume in the Cycles series is called Momentary Incursions. Sound designer Ron MacLeod consulted many other sound designers and composers to glean what would make their job easier when looking for sound effects and noises. Like the first three discs in this series, all the titles inspire but more importantly describe the nature of the cue's audio content. Also like the whole series, you can only use these sound files license and royalty free as long as they are contextually mixed within your composition and not as the sole element of your soundtrack.

The package comes as a two-disc set: a regular stereo music CD for quick audition and a DVD-ROM with stereo .wav files in full 24-bit resolution and your choice of 48 or 44.1kHz sample rates. The DVD also contains compositions mixed in six-channel audio for use in surround sound productions. All samples are end-to-end looped for easy use in sequencers or looping applications such as radial, Live, Acid or Apple's GarageBand. There is also complete documentation (.pdfs and .xls files) for both the music CD and the DVD included.

Momentary Incursions are mostly short, single shots of noises, synth textures, hits, transitional segues or abrupt collisions. These are perfect for any music or soundtrack scores where, occasionally, an atonal noise or smear is desired. Sounds range from very organic to creepy to Sci-Fi to natural and human body-generated. The DVD-ROM is divided up into five folders labeled: Events, Hits, FX, Transitions, and Waves. Each of these folders is further subdivided into evocatively named folders of sound files. I found nomenclature better with this volume allowing immediate gratification with a lot less time required to locate just the right sonic moment or effect.

Momentary Incursions completes a series of discs you should own if you're serious about using great sound effects within your music with a minimum of hassle. It sells for $99 MSRP and for more information, contact Cycling '74 at 415-974-1818 or visit www.cycling74.com. Buy it at www.cycling74.com/products/order.html#cycles.











---