DigiTech Jimi Hendrix Experience™ Pedal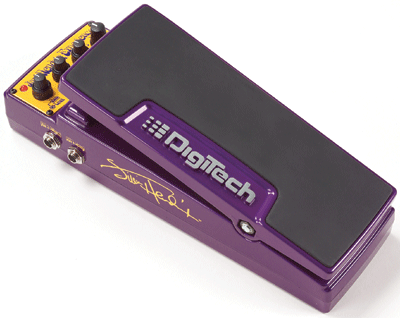 DigiTech's modeling synthesis is the basis for their critically acclaimed Artist Series Pedals with the Jimi Experience pedal one of the most popular models. DigiTech's proprietary Production Modeling™ technology via the AudioDNA™ DSP super-chip models and produces all the details that make up an artist's finished sound in the studio or on stage. The attendant speaker cabinets, microphones and their placements, pre/post effects, and the recording engineer's own creative magic are all meticulously rendered and combined precisely to achieve the artist's signature and original sound.

With the Experience pedal, Jimi's recording engineer Ed Kramer was hired to recreate the exact original recording conditions using the original master tapes, all the microphones, amps, mixing console and rooms at Hendrix's Electric Lady Studios, NYC.

The Experience has seven tones switchable on the pedal or by way of the optional FSX-3 footswitch. They are: "Purple Haze" models Fuzz Face™100-Watt Marshall® Super Lead™ Amp, EMT Plate Reverb, and a Roger Mayer Octavia for the solo; the "Foxey Lady" sound is comprised of Dallas Arbiter™ Fuzz Face distortion pedal, a Marshall 100 watt Super Lead amp, and an EMT Plate reverb; "Little Wing" used a 100-Watt Marshall Super Lead Amp, a recreation of a miniature rotary speaker homemade at Olympic Studios in England, and old-school tape flanging; "Star Spangled Banner" models an Unicord™ Univibe™ pedal, Marshall 100 watt Super Lead amp, and a hall reverb and then the solo adds a Dallas Arbiter Fuzz Face; "Voodoo Child" has a Vox® Clyde McCoy Wah™, Brown Fender® Bassman™ Amplifier, and EMT Plate Reverb; "Wind Cries Mary" utilized an EMT Plate Reverb and a Marshall 100 watt Super Lead amplifier; "All Along the Watchtower" used a an acoustic Guitar, 100-Watt Marshall Super Lead Amplifier and EMT Plate Reverb.

The pedal is built on a metal chassis and comes with a large treadle. There are separate amp and mixer audio outputs. The Jimi Hendrix Experience pedal sells for $299 and comes with a custom artist pedal gig bag, pick and pedal power supply. For much more information, check www.digitech.com.











---