Drums On Demand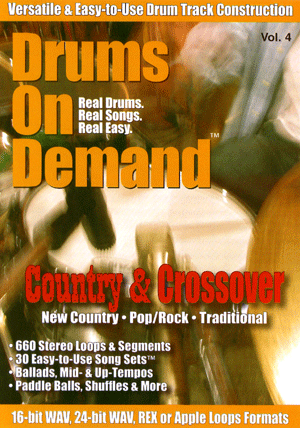 Drums On Demand is a complete construction kit of stereo drum loops and segments on a single CD-ROM. I received the Vol. 4 Country & Crossover set with 660 loops in 30 song sets organized by tempo and descriptive names like: Punchy Snare Ballad (64.8 BPM) or Smashing Eight Hats (98 BPM). Each folder contains as many as 34 separate two or three bar chunks of actual drumming by Todd Sorensen.
Sorenson plays his kit as if he were playing verses, choruses, breaks, intros, endings or bridges to actual Country songs. You construct you song's arrangement by 'dragging' the required pieces into your DAW sequencer to build a complete song. Each folder contains a Master loop file you should use for building your song's basic framework. So that you don't repeat the same pieces over and over, there are variations as well as many different fills for accenting or presaging the next section of your song. There are also many 2/4 bar segments for mixing it up too.
Drums On Demand are available in four formats: 24-bit .wav, 16-bit .wav, REX2 and Apple Loops. The recorded drum sound is of a dry and small, compressed nature that will fit perfectly into most songwriting demos with minimal post processing--such as EQ or compression.
With straight 4/4 time, some odd time signatures and tempos from 60 to 180 BPM, there are drum loops for power ballads, brush ballads, mid and up tempos, shuffles and many more popular with the Country Music genre. DOD is compatible with MAC or PCs and sells for $49.95 and you can audition and buy them only at www.drumsondemand.com
---