DW Titanium Snare Drum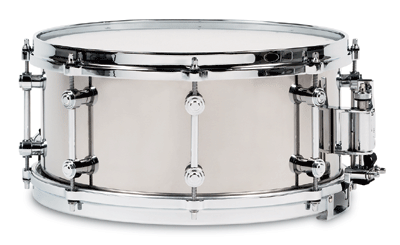 Drum Workshop's only next choice for a manufacturing material for a snare drum might be uranium--but titanium is a lot stronger and safer. DW adds to their brass, bronze, copper, aluminum and Edge hybrid snare drum lines a 6.5-inch by 14-inch monster rolled from pure titanium. No easy task working with this incredible space-age metal but DW manages to precisely machine the bearing edges and then fit the drum with 42-strand snare wires.
The outside is polished to a mirror luster while the inside stays stealth aircraft gray said to take advantage of the dark, warm sound quality this expensive, very strong and super-lightweight metal produces.
DW's Collector Series Titanium features die-cast hoop, mini-turret/tube lugs, a new swivel all-chrome throw-off and a velvet-line carrying pouch. Available by special order, this beauty sells for $1,895.
Check with Drum Workshop in Oxnard, CA at 805-485-6999 or go to www.dwdrums.com.
---