12AY7 Tube Mic Pre-Amp From Electro-Harmonix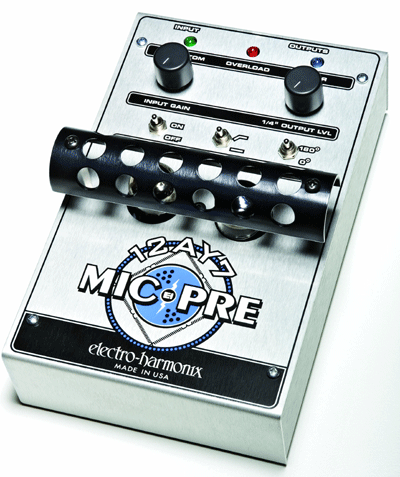 What might look like another Electro-Harmonix pedal is actually a tube microphone preamplifier. Equipped with a 12AY7EH tube and 12AU7EH driver, this unit promises to be fully dynamic and warm at the same time. A full 200-volt plate supply is used instead of the 12 or 48 volts used by other models that try to save money by not including a proper power supply. The result is 50dB of gain into a high impedance input or about 40dB into a 600-ohm load.
The 12AY7 Mic Preamp eliminates the output transformer with a special FET current-balancing circuit that eliminates noise while protecting against hum and hostile electrical environments. Another important feature is an extra 1/4-inch TRS line output for use as an active splitter or an AUX Send output for monitoring.
Studio connections are balanced In and Out XLRs and there is a phase reverse switch and a +4dBm peak indicator light for setting optimal mic level. The 48-volt phantom microphone power is soft starting--eliminating speaker damaging pops. For much more, contact Electro-Harmonix at: 718-937-8300 or visit www.ehx.com
---