eMedia's My Voice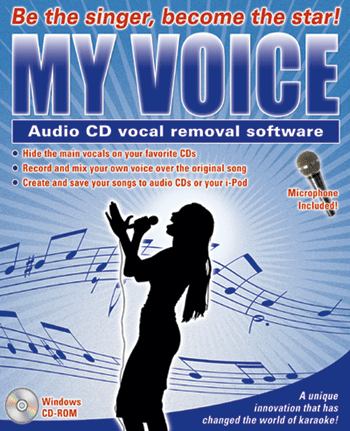 eMedia's software kit My Voice is made up of two parts: a special algorithmn in software that removes (or hides) only the lead vocal from any commercial CD and secondly, the tools to change the key and tempo to adapt the music backing track for recording your own voice. You can transpose up to +/- 1 octave without changing the speed of the music and alter the tempo without changing the pitch of the music or do both at the same time! Sing and record your own lyrics then use studio quality effects like reverb, flanger, chorus, echo, compressor, and a 10-band equalizer to mix your version over the original song's music. Finally, create and burn your music to an audio CD.

Extra features are: an included good quality microphone that plugs right into your sound card, a karaoke window lets you enter all lyrics in sync with the music, and free updates on the Web. My Voice also has an integrated easy-to-use ripper for changing CDs into .WAV or .MP3 files.

Suggested retail price is $29.95 and the My Voice CD-ROM is compatible with Windows 98 SE, 2000 and XP and requires a sound card. For more information and updates, go to www.ipemusic.com.











---