eMedia Rock Guitar Method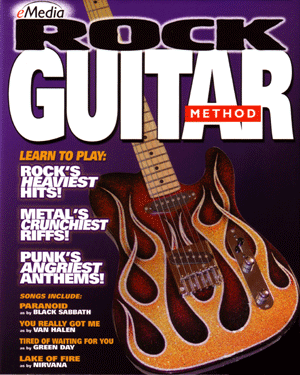 eMedia Music Corporation in Seattle, Washington has done it again with an educational CD-ROM that makes learning Rock guitar fun and easy--especially for students without previous musical experience. Hosted by a Rock radio DJ, the over 100 audio/video lessons take you, step by step, through all the chords, riffs and gear that make heads bang.
The secret to eMedia's successful line of lesson CD-ROMs has always been the weaving of current song hits into each lesson. Rock Guitar Method includes songs by Nirvana, Black Sabbath, Green Day, Van Halen, Rage Against the Machine, Hoobastank, AC/DC and many more. This seemingly simple idea keeps any would be rocker more interested and motivated than other teaching aids that, by comparison, come off as tedious.
Important techniques shown that are common to this music genre are: power chords, barre chords, hammer-ons, pull-offs, palm muting, Blues scales and movable major and minor scales.
Rock Guitar Method from eMedia finishes off with a built-in guitar tuner mode, metronome, recorder and chord dictionary. A hybrid CD-ROM that plays on both Windows and MAC computers, Rock Guitar Method from eMedia sells for $39.95 MSRP. For much more about it, contact eMedia at 206-329-5657 or go to: www.emediamusic.com
---