Modern Recording Techniques from Focal Press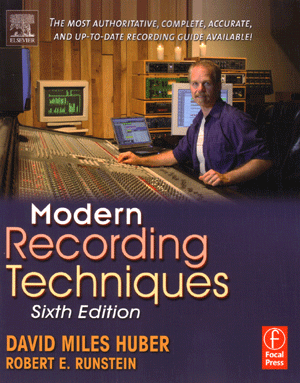 Now in its sixth edition, Modern Recording Techniques by David Miles Huber and Robert E. Runstein is one of the best reference book on music recording ever written. The biggest edition yet at over 650 pages including two appendices and index, Modern Recording Techniques updates with surround sound techniques, newer digital technologies and the latest career advice. The companion Web site at www.modrec.com has even more resources and information.
I found that this book assumes the reader has a basic knowledge of physics, sound and electronics allowing for an easy read and becoming quickly acquainted with the labyrinth nature of recording studios, location recording, multimedia and the Web and the recording process itself. The book explains both the technical and perceptual sides of most things to do with the production of sound and music--you learn how your ear works and why but also about phenomenon like masking, beating and combination tones.
I also like that the book is not organized like a technical tome at all but more like of a story told with many anecdotal asides and aphorisms. Both technical and career information are presented and taught along side of each other. There are over 500 technical drawings, screen shots and product photos of studio floor plans, software processors and DAW systems, commonly used processing gear, consoles and MIDI instruments.
With sections about sound and hearing, studio acoustics and design, microphones, tape recorders, digital audio technology, synchronization, loudspeakers and amplifiers, consoles, noise reduction, monitoring and mastering and studio session procedures, Modern Recording Techniques is a must have for any person doing recording--from pro to beginner. It's from Focal Press, an imprint of Elsevier for $44.95. Check www.focalpress.com
---