Martin Guitars George Martin Studio Edition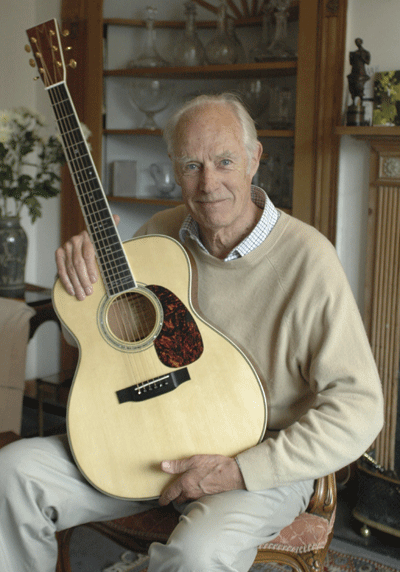 Who better to have as main signatory and consultant for creating a new Martin acoustic guitar especially for recording than Sir George Martin himself. With a five-decade producing career that saw Martin signing and shepherding the Beatles through the majority of their ten-year recording studio history, then founding Associated Independent Recording (AIR) and going on to work with artists ranging from America to Ringo Starr to Paul McCartney to Jeff Beck, there is no one else who approaches the highest pinnacle of respect and admiration in the world of record making.

The M3M George Martin Studio Edition is an acoustic built to GM's detailed preferences to create an instrument with a full and balanced tone ideally suited to the recording studio. A creative mix of tone woods is used starting with a top made from rare Italian alpine spruce for quick response and sides and back made from genuine mahogany for clear and bright high frequencies. The three-piece back features a center wedge of rare quilted mahogany, separated from the wings by white/black/white, wooden marquetry strips. Two additional inlays highlight a small wedge of mahogany below the neck heel. Together, the inlay strips form a graceful "M" (for Martin) emblem.

The low profile neck is also mahogany and the headplate uses more mahogany and fine line inlays to create the same "M" emblem as on the guitar's back. The black ebony fingerboard features a small "5" inlay at the fifth fret to commemorate George Martin's role as the fifth Beatle and GM's signature is inlaid between the 19th and 20th frets.

The M3M George Martin Studio Edition comes with Martin SP+ coated light gauge strings and a portion of the proceeds from the sale of each guitar with be donated in support of the Sir George Martin Music Foundation, established to aid the island of Montserrat that was badly devastated by the Soufriere Hills Volcano eruption in 1997. Each M3M Martin Studio Edition guitar bears an interior label personally signed by George Martin and Martin Chairman C.F. Martin IV, and numbered in sequence with the edition total.

Selling for $5,699 MSRP, orders for the M3M George Martin Studio Edition will be accepted until September 23, 2005, after which the total number of guitars and the names of participating Martin dealers will appear on the Martin website: www.martinguitar.com.









---