DVForge JamPlug Miniature Guitar Amp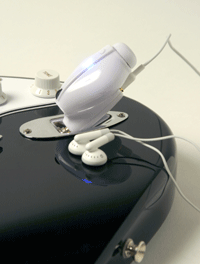 JamPlug is a fully self-contained, miniature guitar amp about the size of a double pack of gum. Its all-white body might contain the smallest guitar amplifier in the world and plugs straight into the jack on your guitar or bass. The JamPlug comes with a single AAA Duracell® alkaline battery plus a set of matching white ear bud headphones.
With both a volume control and on/off switch, the blue LED lets you know the JamPlug is ready to Rock at $49.99 from the JamPlug web site, www.jamplug.com or from any JamPlug reseller worldwide.
---