MJS Music GUITAR: Total Scales Techniques and Applications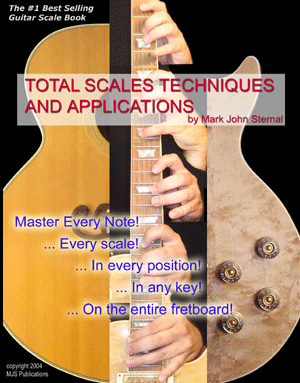 GUITAR: Total Scales Techniques and Applications from MJS Music is a new take on guitar lesson books. For beginner to expert, this book teaches every major or minor scale in every position on the guitar and all the ways to use them to create music. A tall goal to be sure prompting the author, Mark Sternal, to make the guarantee that you'll learn more than $5,000 worth or over five years of tutored guitar lessons.
The book starts at a level anybody without any experience can begin and then progresses at a pace controlled by the student. Sternal claims it is the first study course of its kind that can take a player from a beginner to a professional level in one volume. After you're playing well, chapters 13 through 58 present, in tablature and staff notation, every major and minor scale in all keys and modes with each scale shown in every position on the guitar neck. These chapters also work as a quick reference for the season pro player who wants to expand the 'voice' of his/her instrument.
You'll learn what Neapolitan Minor Scale or a Hungarian Gypsy Scales are all about and throughout this book there are loads of tips and techniques explained. Learn how to do ghost bends, hammer ons and pull off techniques all as you go--like receiving small rewards for all the hard work mastering a musical instrument is.
GUITAR: Total Scales Techniques and Applications sells for $24.95 and for more information, MJS Music Publications, Inc. at 352-563-1779 or go to www.MJSPublications.com/




GUITAR: Total Scales Techniques and Applications
---