Getting Gigs! from NMD Books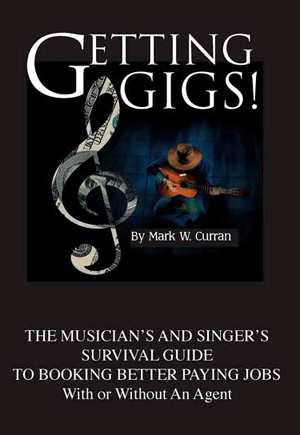 The complete title: Getting Gigs! The Musician's and Singer's Survival Guide To Booking Better Paying Jobs With Or Without An Agent is a book written from experience--the cold, hard 'facts of life' of getting worthwhile and paying jobs playing and singing music. This is a comprehensive guide to finding the best paying gigs for musicians and singers ranging from local area clubs to stages all over the world. There are chapters covering the packaging and marketing of your act; personal details like appearance and ego-tripping; getting and making your own local gigs; the realities of road gigs; and overseas gigging.
No venue or specialty is left out with special sections on the Las Vegas and cruise ship markets. There are also interviews with successful musicians, entertainment directors and booking agents who share their secrets in finding and securing the best paying gigs. Included are directories of resources for your own research, and the contact names and phone numbers of agents and entertainment directors worldwide.
Written by Mark W. Curran, an authority in the field of music marketing and also the author of Sell Your Music: How To Profitably Sell Your Own Recordings Online, Getting Gigs! The Musician's and Singer's Survival Guide To Booking Better Paying Jobs is available from NMD Books for $19.95 MSRP. NMD Books at 2828 Cochran St. Suite 285, Simi Valley, CA. 93065. Check www.nmdbooks.com




Getting Gigs
---