Notion™ Music Notation/Performance Software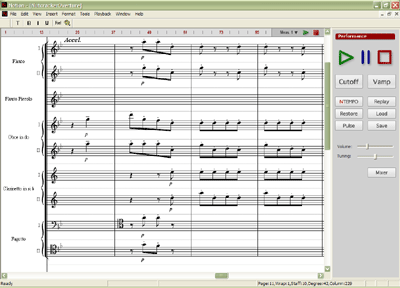 Notion™ is a complete self-contained software system that lets you compose and perform orchestral music using only your PC. (MAC version coming later this year) At your disposal are over 8,500 samples performed by the London Symphony Orchestra and recorded at Abbey Road studios. There are strings, winds, brass, piano, harp, and twelve percussion instruments each sampled playing individual notes and articulations.
Using Notion, you type in score notation on a computer's standard QWERTY keyboard using an easy to learn shorthand or select notations from a sidebar menu. You can "drag and drop" edit, add/remove instruments at any time and quickly go from section to section. The Ntempo™ tempo triggering system allows you to freely "conduct" the orchestra's tempo for dramatic and realistic performances or, for purposes of accompaniment of a live singer.
With up to 1,000-voice polyphony, eight times the volume resolution of MIDI and real-time tempo changes for accelerando, rubatos or a fermata, you'll have all the right tools to compose and hear your orchestral score without any musicians at all.
Finally, Notion's mixer page lets you adjust volume, mute, solo and set room ambience and delay on each instrument/section for perfect sound. Notion makes an excellent teaching tool and sells for $599 MSRP. Developed by VirtusoWorks, telephone them at 336-275-2994 or visit www.notionmusic.com
---