Pacific Drum FXR All-Birch Kits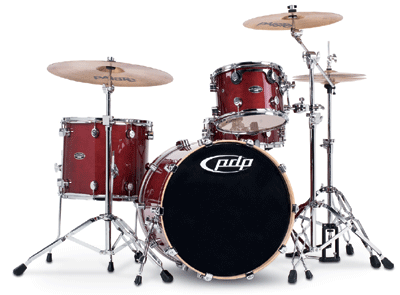 The new FXR series are Rock kits featuring overall bigger drum sizes. With all the shells made from birch, these drums have plenty of "cut" to poke through loud guitar players on stage. You also get pro features like Suspension Tom Mounts (S.T.M.), True Pitch tension rods, Remo heads and Pacific's signature oval lugs.
The four-piece sets consist of: 9X12-inch F.A.S.T. rack tom; 14X16-inch floor tom on legs; 18X22-inch bass drum; matching 6X14-inch snare drum; and the 8.155 hardware pack with CB800 straight/boom cymbal stand, AC991 accessory clamp and SP450 pedal.
The kits are offered in Cherry or Tobacco fade colors and you can add an 8X10 and/or 12X14-inch toms with suspension or leg hardware. As pictured, the kits sell for $1,499 and an additional $209 for the 8X10 tom and $295 for the 12X14 floor tom. Pacific Drum or Drum Workshop in Oxnard, CA at 805-485-699 or www.pacificdrums.com.
---