Production Mixing Mastering With Waves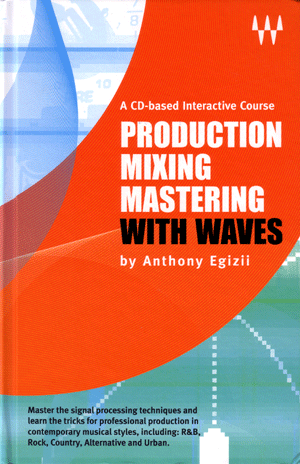 Production Mixing Mastering With Waves by Anthony Egizii is an interactive training course for learning the very popular DAW plug-in processors from Israel-based Waves Inc. Published by Waves Inc., this 184-page book is sui generis because it comes with seven CD-ROMs including a 14-day demo installer disc for all the Version 5 Waves plug-ins covered. Each individual tutorial CD has a song written and produced by Egizii and D. Musumeci in Country/Rock, Dance, R&B, Rock Alternative and Urban Remix production styles. The seventh CD covers CD mastering.
I like the way an entire chapter and CD is devoted to each of these genre/styles with many references to the sound on the CDs. It is one thing to say, in typical textbooks for example, to adjust a compressor to obtain a certain sound and quite another to actually hear what it should sound like. Each individual instrument and vocal was processed using Waves' plug-ins and you are able to "deconstruct" these song tracks within your own DAW.
Each CD-ROM contains all the audio, plug-in settings and session files to open the song in your choice of: Pro Tools™, Cakewalk's Sonar™, Cubase SX™, Logic™ and Nuendo™ DAWs running on either a MAC or PC. The mastering CD provides both mastered and unmastered versions of final mixes of the same Country/Rock, R&B, Dance and Rock Alt. songs on the CDs.
This 'demystification' of the popular Waves plug-ins is a welcomed treat for the seasoned pro to newcomer alike. Besides gleaning a better understanding of all the features so you can harness the vast power of the Waves family of plug-ins, you'll also learn a lot about record production and engineering.
Production Mixing Mastering With Waves is from Waves Inc. For more information, check www.waves.com




Production Mixing Mastering With Waves
---