Reason Drum Kits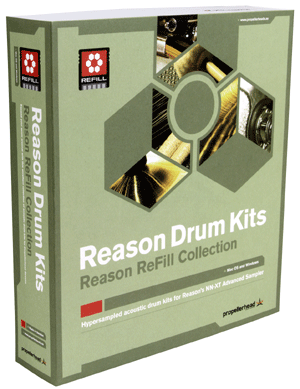 Read About The Latest Propellerheads Reason/Record Bundle!

I was glad Propellerheads, maker of Reason and Recycle, jumped into the multi-track, multi-sampled drum kit fracas. Part of the Reason ReFill collection, Drum Kits doesn't disappoint with 10,000 drum and cymbal samples spread out over 17 NN-XT sampler kits and 50 ReDrum kits. The single DVD-ROM has both 16 and 24-bit ReFill versions if you need them along with 120 different grooves as MIDI files.
With this ReFill, you can now fully remix the drums just like if you had recorded them multi-track: separate Close, Overhead and Ambient mic tracks allow for "dialing in" the exact sonic size of the kit to better fit your music and production style. Also with each drum mic on a separate track, you can individually process the kick and snare (for example) and leave the rest of the brilliantly recorded kit shine through unchanged. The massive Neve console at Atlantis Studios in Stockholm was used for recording great drum sets from Yamaha, DW, Ludwig, Pearl, Ayotte and Gretsch.
Extreme realism is achieved by using multiple velocity levels so a hard hit snare drum sounds real--hard and loud--not just a regular hit made louder with volume. Reason Drum Kits might use 70 samples under a single sequencer key for up to 800 samples required for a single drum kit. Another way better realism is obtained is that no one sample is ever triggered twice in a row. A two-handed drum fill is really two different or more samples depending on velocity.
NN-XT kits include six vintage/Soul/Funk; five "indie" Pop kits; three hard rockers; a mallets soft kit; a kit played with brushes; and a kit with the snares off.
The Reason Drum Kit ReFill is now available at Propellerheads' dealers worldwide or directly from Propellerhead Software at www.propellerheads.se for $129 MSRP.
---