Road Ready CC Cartridge Case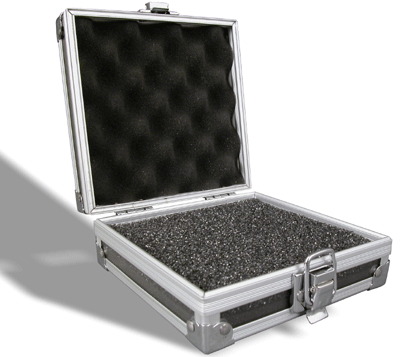 Probably one of the more diminutive cases Road Ready makes, the little CC case, is for your prized turntable cartridges. Priced at around $20 street, the CC has a clear outer finish that can be customized with your photos, tour schedules, beer labels, whatever! The revolutionary Pick-&-Fit Foam technology allows for exact customization to fit your gear perfectly. Simply pick and fit the foam to create the perfect custom fit for any of your cartridges, head shells and styli. When your needs change, replacement Pick-&-Fit Foam is available.
Road Ready makes a whole line of DJ racks, coffins and table cases especially designed and fitted to the more popular Denon, Pioneer and Technics turntables, CD players and mixers.
There is the RR11M16UCT Slant Rack System, a 11U slant rack/16U vertical rack system with casters and table; seven, heavy-duty turntable/mixer cases including the RRDVJX1 case for the Pioneer DVJX video turntable; the RRX100 and RRX300 cases for the Denon DN-X100 and DN-X300 mixers; the RRJX100 CD/Mixer Coffin for Denon's DN-S1000 CD players; the RRJDZMZW CD/Mixer Coffin for the Technics SL-DZ1200 CD players and SH-MZ1200 mixer; and the RRDJMW Turntable Coffin for two Technics tables and the Pioneer DJM500 or DJM600 mixer.
For more information about Road Ready Cases, go to www.roadreadycases.com or call 310-767-1772.
---