Roland BOSS GT-8 Guitar Pedal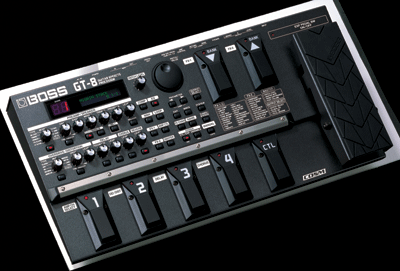 Loaded with twin COSM® amp modeling engines, this processor allows players to layer and manipulate two amp models simultaneously during performance. The Dynamic mode enables two channels to be controlled based on picking strength. So you can transition smoothly from clean to crunch or add/change effects by simply picking harder or softer.

The Solo Switch feature has other settings optimized for soloing--it's like having a separate solo channel along with every COSM amp model. There are 44 effects categories in the GT-8 with up to 13 effects blocks that can be connected together in any sequence and used simultaneously to create complex textures and routings. Effects include: compressors, reverbs, choruses, EQs, COSM-modeled wah-wahs, and much more. There are 200 preset patches built in, plus 140 user patches for storing custom amp/effects creations. BOSS even throws in a selection of synth waves including a sitar along with acoustic simulators and an acoustic processor.

In addition to its stereo analog outs, it offers a 24-bit digital coaxial output for ultra-clean digital transfer, an Amp Control jack for switching between two amp channels on an external amp, an external expression/control pedal jack, effects loop send and returns, MIDI in and out, and a headphone output.

For more information, contact Roland Corporation U.S. at: 323-890-3700 or visit www.BossUS.com/.











---