Roland BOSS RT-20 Rotary Speaker Simulator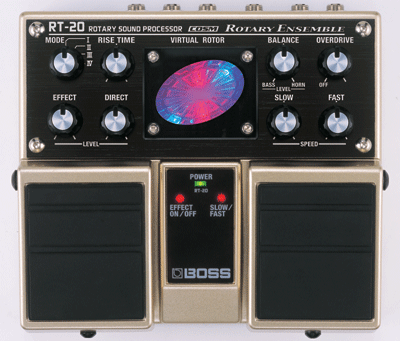 Roland BOSS' newest member of its Twin-Pedal family is the RT-20 Rotary Ensemble. Employing COSM®-modeling technology, the RT-20 authentically reproduces classic rotary-speaker sounds and other interesting sound treatments. It offers adjustable rise/fall Time (or how fast the rotary speaker spins up/down to speed), horn and bass speaker speed, and overdrive.

For me it's worth the price of this pedal just for the awesome graphic of the virtual rotors within its built-in display. The spinning lights show the audio-rotation characteristics of the RT-20 with the center of the display, illuminated in red light, representing the virtual bass speaker. The outside ring, illuminated in blue, displays the rotation of the virtual horn. I had to kick myself out of a trance a couple of times staring at this Stargate vortex.

With the RT-20, COSM is used to simulate classic rotary characteristics in stereo via its two outputs, allowing the (impossible with a real Leslie® speaker) virtual horn and bass speaker to be independently adjustable while you play. This unit will accept either guitar level or keyboard/synth levels--just use the Drive Type switch to optimize the effect.

You can add the BOSS FV-500H/-500L expression pedal to control parameters such as rotation speed from slow to fast while you play. For more information, contact Roland Corporation U.S. at: 323-890-3700 or visit www.BossUS.com/.











---