Sabian Vault Cymbals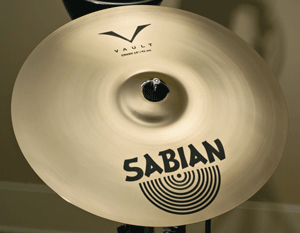 The Vault Crash is the first cymbal in the new Sabian Vault collection. This one is handmade from Sabian B20 bronze and said to deliver a loud and powerful sound despite its thinner nature. A secret alchemy has always surrounded cymbal making and Vaults are no different with their performance-boosted by way of the addition of silver in the B20 bronze alloy.
Vault crashes come in 16, 17, 18 and 19-inch sizes and all feature a powerful sounding bell, balanced bell-to-bow response and a narrow pin lathing for a focused high frequency. The Sabian Vault Crash is available exclusively in Brilliant Finish, and is protected by Sabian's One-Year Quality Protection Warranty. For more information, visit www.sabian.com.
---