Sennheiser freePORT Wireless Systems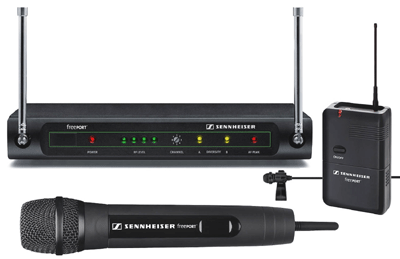 If you've ever noticed the wireless gear used on big live TV shows, chances are you're were looking at one of Sennheiser's top-end professional wireless systems in action. Reliability and good sound are critical demands in broadcast and film work and systems not up to it are quickly thrown out. When it comes to buying the finest, Sennheiser is the leader in wireless mics and monitoring. Now anybody can enjoy this quality at more affordable prices with Sennheiser's new freePORT wireless system.

These easy-to-use systems are available in three plug-and-play versions: Vocal, Presentation and Instrument. Each system has a clear, natural and reliable sound and four switchable UHF frequencies allowing up to four systems to operate at the same venue. The compact receiver (common to all three systems) has front-mounted antennas for improved reception, both XLR balanced and 1/4-inch jack unbalanced output jacks, AC power wall adapter, and a complete manual. Dynamic processing is used to reduce inherent radio noise so your audio signal is as close to the sound of a wired mic as possible. All three freePORT receivers use diversity technology where two receivers are constantly "polled" for the best reception of the transmitter's signal.

The freePORT Vocal Set for singers includes a handheld transmitter outfitted with a cardioid pattern dynamic capsule that offers Sennheiser's well-known clear and natural sound. The freePORT Presentation Set has been optimized for speech applications, theatre performances and corporate events. It comes with an omni-directional clip-on lavalier condenser microphone and a rugged body-pack transmitter. The freePORT Instrument Set is for electric guitars or any instrument with a 1/4-inch output jack that connects to the body pack transmitter. All three systems offer extended continuous operation of up to ten hours from a single 9V battery.

All three freePORT systems sell $499 each and for much more information check www.sennheiserusa.com/ or call 860-434-9190 or Toll-Free 877-736-6434.












---