Singing Coach Unlimited™ from Carry-A-Tune Technologies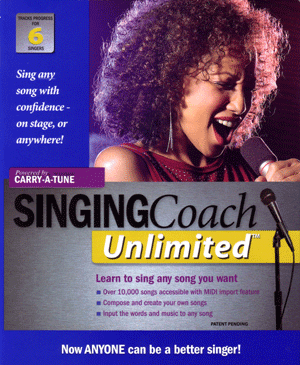 Singing Coach Unlimited is a software programs that combines karaoke screens with real-time feedback of the singer's pitch and rhythm. Supplied with a headset/microphone, Singing Coach runs on fast PCs running XP, ME or 2000 and comes with 24 popular songs customizable to your vocal range. More songs are downloadable from the Net from www.carryatune.com.
Using the system is easy: first determine you singing range, bass, baritone, tenor, alto or soprano; then select either sheet music (if you read) or graphic screens (if you don't); and then start your journey through 20 different singing lessons.
This program is like having a virtual singing coach who tells you when you are sharp or flat and not in time with the MIDI-based backing tracks. You can easily see on the graphic display your 'target' pitches and your own pitch at the same time. All the lyrics, karaoke-style, are displayed under each note at the same time. At the end of each song, the program computes a score to indicate your improvement or not.
Finally, there is a Compose mode where you can import MIDI song data or click and drag notes on a staff, fill in the lyrics below the notes and sing your own tunes. Singing Coach Unlimited is from Carry-A-Tune Technologies and sells for $99.95 MSRP and for much more about it, visit www.carryatune.com.
Recently Singing Coach has obtain an exclusive distribution agreement with Hal Leonard Corporation, the world's largest music print publisher and the leading music channel distributor. The company currently operates seven websites for musicians, including www.HalLeonard.com, www.SheetMusicDirect.us, www.YamahaMusicSoft.com and www.FenderPlayersClub.com.
---