Sony Mini-Disc Recorders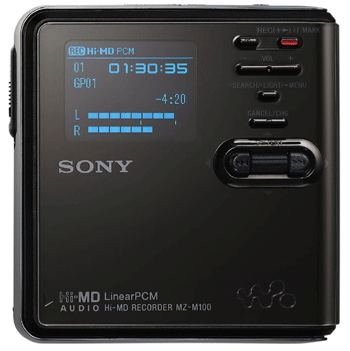 Both the new MZ-M100 ($439.95) and MZ-M10 ($329.95) are MiniDisc-based field recorders designed for musicians and broadcast professionals looking for high sound quality and long recording time capability. Add that this unit is smaller than a European box of cigarettes, has a rechargeable long-life battery, easy-to-read display and uses removal Hi-MD media (disc) then the reasons NOT to own this unit disappear fast. The main difference between the two models is the MZ-M100's display is a six-line, large Organic Electroluminescence that glows bright blue--perfect for checking things in total darkness while the M10 has a more conventional LCD display. Accept for a few accessories, both are identical.

The removable 1GB HD-Media allows up to 94 minutes of uncompressed recording time at CD-quality of 44.1kHz/16-bit linear PCM or up to 34 hours in ATRAC3 plus™ format. The unit also plays MP3/ATRAC3® format and Sony says the Hi-MD media sells for $7 each but the street price is probably much cheaper. The system comes with software: SonicStage and MD Simple Burner for PCs and HiMD Wav Importer for OSX MACS both for importing recordings into your computer for editing and burning CDs. Unfortunately you cannot export audio from your MAC computer (OK on the PC) back to the unit to build a custom disc of your music.

Standard accessories are: the coolest-looking ECM-DS 70P stereo microphone that plugs right into the top of the device or on an extension cable also provided; a pair of MDR-EO931 stereo ear buds; a battery charger; USB transfer cable; a detachable battery box for holding a single AA (a lifesaver when the internal rechargeable quits); and one free MD disc. The MZ-M100 top of the line model also comes supplied with a transport remote control and velveteen carrying pouch.

I had loads of fun recording conversations, live music and press conference and interviews with this unit. It's so small and covert, I felt like a spy sometimes when concealing its presence. For much more about, visit www.sony.com/professional or call 1-800-686-SONY.











---