Sony Sound Forge 8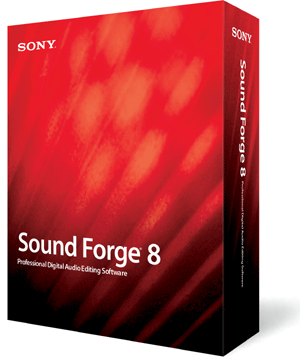 Since Sony bought out Sonic Foundry's products for audio and video production, they have done nothing but make all the software products better than ever! Sound Forge is the industry-standard for audio editing used worldwide for production in leading recording studios, post production facilities, broadcast and media complexes, home studios, radio stations and training facilities. Sound Forge 8 now includes application scripting and CD Architect 5.2--formerly a separate standalone program now valued at $149. CD Architect is for professional CD mastering with direct track export functionality from Sound Forge for fast Red Book standard audio CD creation.

This new upgrade also provides batch processing to automate processes for multiple file encodes--there's no need for repetitive key stroking to convert all the files required for an editing session. Other great new features to speed up using the program are customizable keyboard commands and VST plug-in support for using all your effects from your multi-track programs like CubaseŽ or NuendoŽ. There is also now a low-latency ASIO driver added so you can use your existing soundcard hardware.

The application supports 24-bit/32-bit/64-bit audio using floating-point math on sample rates up to 192kHz. The Media Explorer has automatic file preview and you can use any of the 40 built-in effect processors, There is DirectX plug-in automation, audio threshold record triggering, automated time-based recording, and a prerecord buffer so you'll never miss an unexpected audio event. Nearly every format is supported such as Windows Media 9 Series import/export; Quicktime 6; 24fps video files; MPEG-1, 2, and 3 (MP3); RealAudio 9; Sound Designer and .wav and all the rest.

For Windows PCs only, Sound Forge 8 sells for $399.95 and is by far the best and most comprehensive audio editing program at this time. It's available at www.sony.com/mediasoftware or any software retailer.











---