Soundcraft GigRac 1000st Powered Mixer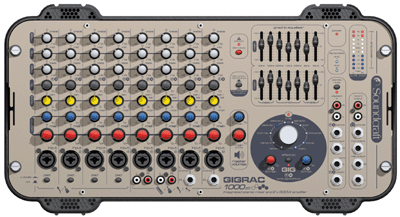 The Soundcraft GigRac powered mixer line now has the most powerful version yet: the stereo GigRac 1000st with 1000 watts output power (500 watts per channel into 4 ohms).
Styled like the GigRac 300 and 600, this stereo version has expanded three-band EQ on the inputs, two seven-band BSS Audio graphic equalizers and ten, high quality preset digital effects. At 5U or 8.75 inches tall, the compact GigRac 1000st can still be slung over your shoulder and easily carried to a show.
There are two output signal paths: one for the main front-of-house output and one for stage monitors. In normal stereo use, the two power amps each deliver a full 500W of stereo power to the main (FOH) outputs or you can switch it so that it splits 500 watts to the main output and 500 watts to the monitor output.
Other additional features include pan controls for the inputs to the stereo bus, a stereo graphic EQ on the main output, a seven-band mono graphic EQ on the monitor output, 12-segment bargraph meters for both main and monitor outputs, a stereo playback input for CD playback and a stereo submix input. The GigRac 1000st forms a perfect PA setup when combined with JBL's new JRX speakers and JRX118SP powered sub.
GigRac 1000st sells for $749.99 MSRP and much more information is available at www.gigrac.com or at www.soundcraft.com. Soundcraft USA/Harman Pro North America, Northridge, CA. 818-920-3212
---