Spectrasonics' Stylus RMX™ Realtime Groove Module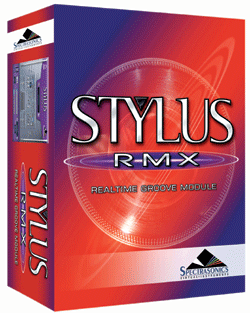 It wouldn't be an overstatement to say that Stylus RMX is light years away from the original Stylus Groove Module software. RMX has the Stylus Groove Module in its orbit--retaining all the original sounds and MIDI loop data of that ground-breaking software and goes on to add an astronomical 7.4GB sound library including 10,000 single hits useable for adding accents or constructing your own drum kit with the new Kit mode.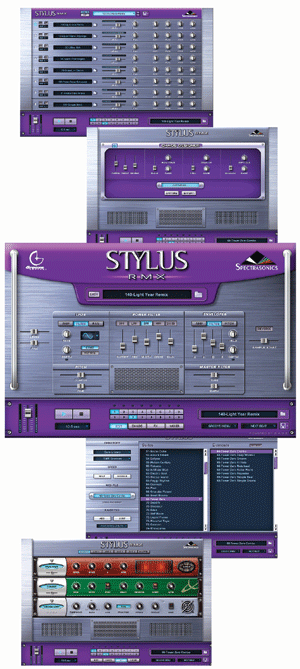 The new Spectrasonic Advanced Groove Engine (or S.A.G.E.™) not only offers more control over groove production and performance but also opens up a whole new galaxy of S.A.G.E. Xpanders libraries (there are four so far at $99 each) developed and played by top session drummers and produced by Stylus sensei Eric Persing.
Immediately noticeable with RMX (over Stylus GM) are the five new, intuitive interface pages that make navigating this galactic groove cruiser easy. The Browser page gives you access to all sound libraries, Xpander additions and any converted Rex files available. The Easy Edit window shows the most important edit faders for "on the fly" manipulation of grooves--for jamming during live performance. You can change pitch, envelopes, level, filtering and more on this page.
The Effects page is for routing and using the built-in effects rack--full of useful, "tight sounding" tricks great for percussive sounds like: compressors, filters, many types of distortion and tube-based modules. For mixing loops, the Mixer page has four Aux effect send controls, pan pots, level, mute and solo buttons for each of the eight different loop "parts." Chaos Designer is a brilliant interactive page for realizing random, interstellar musical changes to the groove.
RMX is multitimbral and there is complete 'drag and drop' accessibility via the Groove Elements Menu (instruments and their musical part that make up a groove loop); Groove Menu (chunks of MIDI data that plays each element that you can reuse for playing other instruments); and Sound Menus (for individual single shots for adding unique accents etc.).
I'm just getting started using Stylus RMX and I'm learning fast by way of the excellent, three-hour video CD-ROM tutorial that's included. There is so much more to know and learn that I can't cover in this space. Stylus RMX sells for $299 MSRP and there is a free upgrade version 1.2 that adds over a dozen new features including three brand new, professional quality effect modules and enhanced compatibility with major host applications. All available from www.spectrasonics.net
---